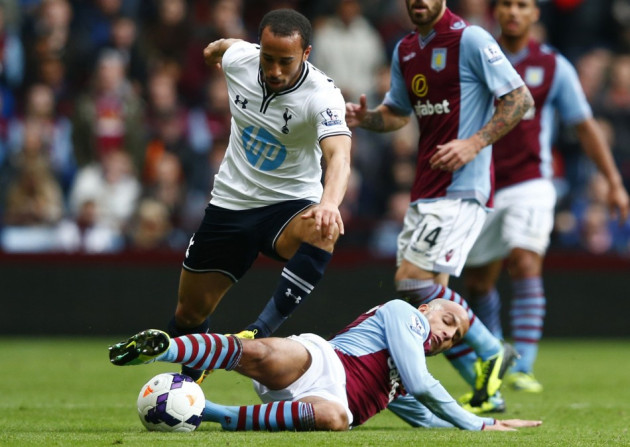 Tottenham Hotspur answered the billion-dollar question of how to replace Gareth Bale with the combined £33m addition of Nacer Chadli and Erik Lamela in the summer transfer window. Few would have however predicted that the man to fill the void most adequately since the departure of the Welshman has been a player who has been in north London since the age of nine.
After an England debut was celebrated by a maiden international goal, Andros Townsend's first for Spurs in the impressive win over Aston Villa, an afternoon which was the perfect example of the club's new-found strength in depth, shouldn't be seen as a case of after the lord mayor's show.
If Townsend is England's answer to accusations of criticism of pedestrian performances and ambition going forward, then for Tottenham the 22 year old is showing signs that filling the role which Bale so effectively performed didn't require such swift and decisive action in the window.
Townsend might not have yet have attained the capacity for neither destructiveness nor the ability to win matches on his own, but his attributes are perfectly honed to at least provide a carbon-copy of Bale.
Bale's most effective weapons were his directness and his speed with the ball; qualities Townsend has already adopted with aplomb. For England, Townsend produced this with some regularity and against Villa on Sunday; he reproduced the trick once again.
Such thrust makes a mockery of the modern-day winger who prefers tricks and deception rather than foolhardy speed. Townsend is a risk taker and a gambler. Not necessarily flamboyant, but effective.
In stark contrast to Wembley nine days previous, Townsend might not have opened his Tottenham account in the fashion he hoped, but the penetration he provided on the right meant his contribution could never be ignored. It was an afternoon to forget for Antonio Luna.
Despite a successful 12-game cameo on loan at Queens Park Rangers last season, Andre Villas-Boas can not have predicted the impact or the success Townsend has had when thrown in at the deep end at White Hart Lane.
While he has received the opportunities, the summer addition of Chadli and particularly Lamela suggested the Portuguese boss only had a peripheral role in mind for Townsend. With a World Cup place now in the offing, and despite a new four-year deal a summer transfer saga ahead, Villas-Boas owes it to Townsend to keep faith.
Chairman Daniel Levy's shrewdness in the market suggests Townsend's success, and the restricted impact of Chadli and Lamela, might damage his pride having gleamed a world-record fee for Bale. Tottenham's success this season might rely on his ego taking further knocks.