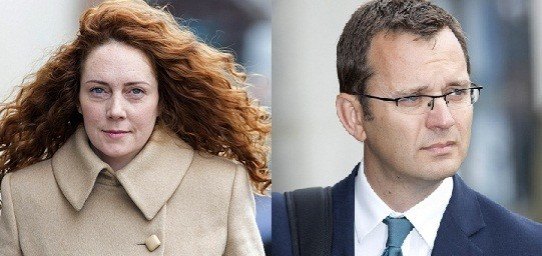 Former News International chief Rebekah Brooks and ex-government spin doctor Andy Coulson have been charged under Operation Elveden, which has been investigating allegations of unlawful payments to public officials.
Brooks, former editor of the Sun, and the now defunct News of the World's Coulson, have been arrested following accusations they paid a Ministry of Defence employee for information for stories for the Sun newspaper.
Coulson, a former Downing Street communications director, alongside former NoTW royal correspondent Clive Goodman, faces two charges each of conspiracy to commit misconduct in public office.
John Kay, chief reporter of the Sun between 1990 and 2011, and Bettina Jordan Barber, employed by the Ministry of Defence, each face one charge of conspiracy to commit misconduct in public office, along with Brooks.
A sixth, unnamed, suspect is still under investigation.
Coulson released a statement denying the charges. He said: "I am extremely disappointed by this latest CPS decision. I deny the allegations made against me and will fight the charges in court."
Alison Levitt, QC, principal legal adviser to the Director of Public Prosecutions, said: "We have concluded, following a careful review of the evidence, that Clive Goodman and Andy Coulson should be charged with two conspiracies.
"The allegations relate to the request and authorisation of payments to public officials in exchange for information, including a palace phone directory known as the "Green Book" containing contact details for the royal family and members of the household.
"Bettina Jordan Barber, John Kay and Rebekah Brooks should be charged with a conspiracy to commit misconduct in public office between 1 January, 2004, and 31 January, 2012.
"This conspiracy relates to information allegedly provided by Bettina Jordan Barber for payment which formed the basis of a series of news stories published by The Sun. It is alleged that approximately £100,000 was paid to Bettina Jordan Barber between 2004 and 2011.
"All of these matters were considered carefully in accordance with the DPP's guidelines on the public interest in cases affecting the media.
"This guidance asks prosecutors to consider whether the public interest served by the conduct in question outweighs the overall criminality before bringing criminal proceedings."
All five are due to appear before Westminster magistrate's court.
Fifty-two people have been arrested as part of Operation Elveden.
Brooks and Coulson have already been charged with phone hacking, while Brooks also faces charges of perverting the course of justice.
The other News of the World staff facing phone-hacking-related charges are Stuart Kuttner, former managing editor, Ian Edmondson, former assistant editor (news), Greg Miskiw, a former news editor, Neville Thurlbeck, former chief reporter, James Weatherup, former assistant news editor, and a the private investigator, Glenn Mulcaire. Kuttner faces three charges, while Miskiw faces 10 charges. Edmondson faces 12 charges, Thurlbeck eight, and Weatherup eight.