Lee el articulo en español aqui: http://ibt.uk/A006Fjo
A dark cloud overshadowed the many silver linings of Real Madrid's summer when Manchester United poached Angel Di Maria for a UK record transfer fee of £59.7m. Even though Real were celebrating their Champions League success, and the signings of World Cup heroes James Rodriguez and Toni Kroos, the loss of the Argentine midfielder cut them deep.
Money is hardly a major concern for fans of the club run by Florentino Pérez, so instead of celebrating the club's biggest-ever transfer windfall when Di Maria joined United last August, supporters overloaded social networks with a mix of worry and disappointment.
At the same time, the Red Devils began to foresee days of wine and roses and nobody could say this was imprudent. El Fideo (The noodle), had registered 24 assists and 11 goals in all competitions the previous season, figures that look even more impressive when you take into account that he was playing alongside Gareth Bale and Cristiano Ronaldo, not exactly the most generous players in the world.
The Argentinian was one of the most valuable players of last season, lifting the Champions League, reaching the World Cup final, flourishing on either flank and in the centre of the pitch. However, just six months on from his transfer, feelings have switched sides, even though Di María's first matches at Old Trafford lived up to expectations.
The former Rosario Central player has not been able to maintain the form of those heady late-summer days and, so far, he has been unable to meet Louis Van Gaal's requirements. It does not seem to be a long-lasting marriage even if we listen to the manager's recent words of empathy for his player.
"He needs a year to adapt to life at Manchester United, he may not be at his best until next season", the Dutchman said in a press conference. But was he really expecting his marquee signing would need so much time to adapt after such an exorbitant outlay?
On the other hand, Real Madrid's supporters are praising their president Florentino Pérez for what they consider a "steal" or a "pay dirt". Some fans have even hailed Perez for committing "white-collar theft" against United.
"Di María is the best sale in the history of the club, no doubt", tweeted Tomás Arroyo (@fresstac), a Real Madrid fan, yesterday. This is a very popular opinion at Santiago Bernabéu, even when you consider that James Rodriguez's performance's are far from the outstanding level shown by the South American winger a year ago.
The biggest waste of money in the history of football
Six months after "El Fideo's" traumatic departure, Los Blancos are even comparing Florentino to Arsene Wenger for his prowess in the football transfer market. Arsenal's French manager is constantly praised in Spanish media due to his capacity for selling players at the height of their value, just after they have reached the pinnacle of their careers. Petit, Overmars, Henry and Song (all sold to Barcelona), Van Persie (to Manchester United) and Vieira (to Juventus) are hailed as prime examples.
Following the same line of thought, Spanish football fans and journalists have started to think that Di María's peak is a phenomenon of the past. Pundits in Spain opine that such a physical player cannot ride the crest of the wave more than a couple of seasons, as not even a long-distance runner can maintain his top pace for too long. If predictions are accurate, if the Argentinian is unable to turn around his form in the near future, Manchester United's board of directors will be pulling their hair out with frustration.
It would not simply be another unsuccessful signing. It would be the biggest waste of money in the history of British football. Fernando Torres and Chelsea set the bar high, but United chief executive Ed Woodward appears to have outdone them.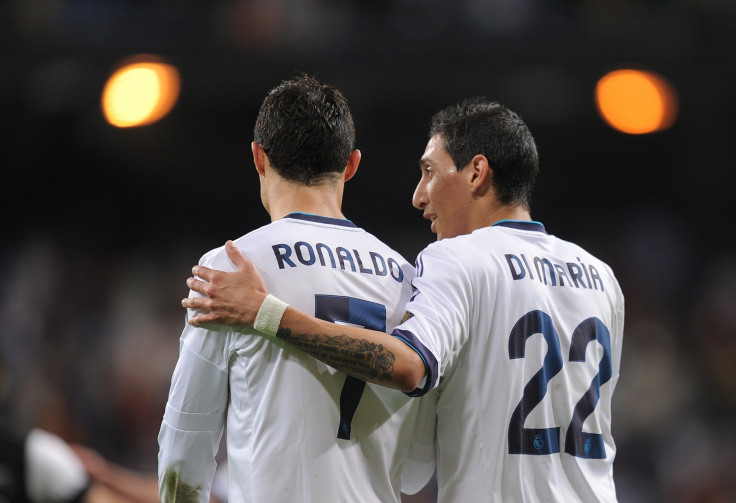 Di María's alleged lack of astuteness is trending as well these days among Real Madrid's supporters. During his four years at the Santiago Bernabéu, he had highs and lows with fans. Especially after a rude gesture to the aficionados in September 2013, during a home match against Osasuna, when he he was booed. His undisguised passion for money - highlighted in Spanish media as the main reason for his sour relationship with Florentino Pérez - has not helped him maintain a good reputation among supporters.
Even his fiercest critics admit that he was the key player in last year's Champions League title, and some have even considered the idea of bringing him back. But according to two Real fans I spoke to, they should not consider spending "more than 30M euros, his real value. He put money above everything else, as Mezut Özil did. Now look how they are doing."
The Premier League's new television deal is considered bad news in Spain, as the budget gap could weaken teams over here. But, after Di María's signing, some clubs have the feeling that there is a hidden opportunity behind what it is supposed to be a problem. Will the domino effect enrich Spanish football's battered economy?
IBT's La Liga columnist Oier Fano Dadebat is a Spanish journalist who divides his time between San Sebastian and London. You can find out more about him on Twitter @oierfano.