As if it was a F1 Team, Barcelona is hosting a fierce battle inside its own club. A fascinating clash between two of the best goalkeepers of Europe, Claudio Bravo and Marc André Ter Stegen, fighting like Lewis Hamilton and Nico Rosberg, for the good of team. Nobody has been caught by surprise, as both are considered top European stoppers. Barcelona paid €12 million euros for both the Chilean and the German, an amount of money that puts them in the top 10 most expensive players in this position.
So far, there is no debate in Camp Nou, as Bravo is playing all La Liga games and Ter Stegen is starting in every Cup and Champions League clash. Both of them are performing well, and arguably, competitiveness enhances a team's long-term talking, but... is Luis Enrique making the right choice? Has it been a football-based decision?
Turbulence at Barcelona lead to this uncommon situation. The scouting network ruled by former sporting director Andoni Zubizarreta was enthralled by Ter Stegen's reflex saves during the past few seasons. Zubizarreta, who resigned some weeks ago, considered Ter Stegen a goalkeeper for a decade. "I came to Barcelona because of Zubi" said the German a week ago. But 'Zubi' did not expect what happened next.
Luis Enrique returned to Camp Nou, now as a coach, after an unsuccessful season with Tata Martino in the dug-out, and asked for a goalkeeper of his own choosing. He was looking for the best candidate with the ball at his feet, taking into account Barca's tried-and-tested tactics -Valdes was the squad's key midfielder during much of his time at the club.
The search was not very exhaustive as Claudio Bravo has a precision sniper rifle in his right leg and many managers, inside Spain and out, consider him a perfect modern keeper. "I think it was the best demonstration of footwork and passing I have ever seen from a goalkeeper", Roy Hodgson said on November 2013, when the former Real Sociedad stopper led Chile to an outstanding victory over England at Wembley.
Ter Stegen has also shown great skills with his feet, and weekly footage of Barcelona's training sessions prove his ability with passes anddribbling, but Bravo's know-how and experience make these abilities more palpable as he always makes the right decision.
The challenge for Enrique is to deal with the tricky situation, as it is not easy to have two new and extremely expensive keepers in the same squad. And in a way, he is succeeding, as it would have been a waste of money to keep one of them inactive throughout the season. But decisive moments of the season are about to arrive, and when it comes to experience, Claudio Bravo wins by knock out. He has dealt with all sort of situations, having played two World Cups, and after achieving all sort of goals with Real Sociedad - from promotion to Champions League qualification in just 3 years.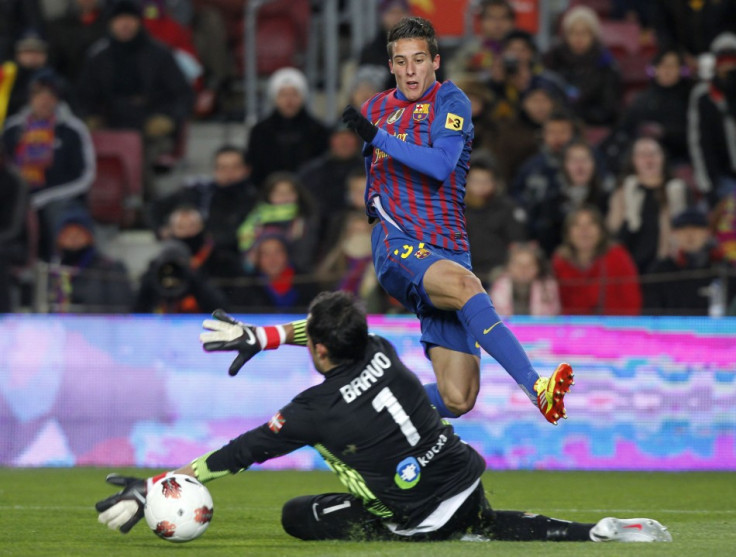 During his outstanding seasons at San Sebastian, Bravo - who scored Real Sociedad's last goal from a fee kick, five years ago - was considered a cold-blooded athlete because even in the most thrilling matches he was able to keep his concentration, thanks to a thorough preparation. Bravo, nicknamed el hombre tranquilo or "the quiet man", reminded us in San Sebastian that actions speak louder than words. Aged 31, the Chilean is at the zenith of his career, and Luis Enrique knows it, so he will have to make a decision for the rest of the season. Either bench Ter Stegen, aged 22, after giving him chances to adapt to Barcelona's football. Or keep up the season's rotation.
Luis Enrique will take some risks if Ter Stegen starts during the rest of the Champions League and domestic cup matches, with Barcelona just one match away from the final of the Copa del Rey and likely to knock Manchester City out of Europe's premier tournament at the Camp Nou. The former Borussia Moenchengladbach keeper has made a couple of mistakes in some of the most important matches of the Champions League, showing he has to improve his performances under pressure.
The young German is not used to dealing with crucial games, and it might be to early for him to cope with such ambitious objectives. The history of football proves that psychological skills are, at least, as important as physical ones during finals. The devil is in the detail and whereas Bravo's mind is ready for everything, Ter Stegen might need more maturity. Will Luis Enrique make a shift in his doctrine? Will he be able to keep these two ambitious goalkeepers happy with their situation? What if Ter Stegen fluffs his lines on a huge European night?
Someone - maybe Oscar Wilde - once said that experience is simply the name we give our mistakes. But Luis Enrique cannot afford any mistakes, no matter how much experience it gives the culprit. Enrique's dilemma, the choice between two of the most expensive goalkeepers of all time, sounds like a first-world problem. But it's a problem nonetheless.
Oier Fano Dadebat is a Spanish journalist who divides his time between San Sebastian and London. He writes about Spanish football for IBTimes UK. You can find out more about him on Twitter @oierfano.