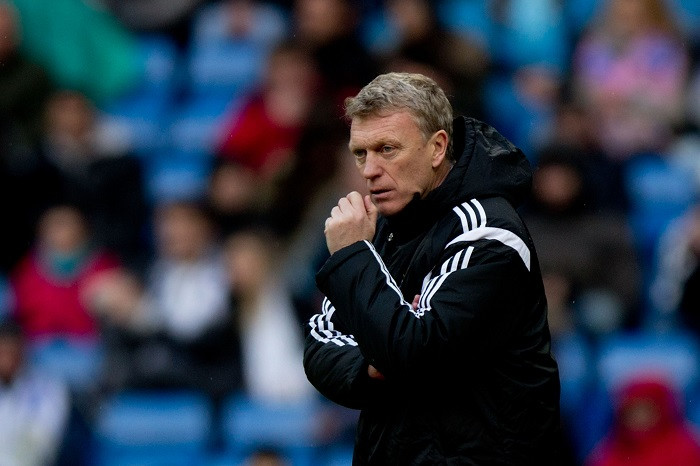 David Moyes faces a crucial month in his Spanish adventure. Real Sociedad's manager had an inspiring start in San Sebastian, but three months after his arrival at the Basque club, relegation remains a threat and the 51-year-old Scot still has not hit the nail on the head.
The so-called Moyes effect has been partially diluted and Real Sociedad's fixture list provides little encouragement, as the "txuri urdines" face clashes against Sevilla, Valencia, and Espanyol over the next month. A month that will condition his popularity in the north of Spain.
Still, Real Sociedad are showing some progressions in their football. Patience is still a virtue among Basque supporters.
The former Manchester United and Everton manager is dealing with many setbacks and the worst inheritance, a broken and unbalanced squad whose dependence on Carlos Vela is palpable. With the Mexican injured for the next two vital months, Moyes is trying to change the long-ball style that brought decent results during his first month at Anoeta.
The improvement in Real Sociedad's football has not been reflected in the results results - Moyes' reign so far has yielded three wins, six draws and three losses. Any success the new regime has achieved is down to two players: former QPR and Real Madrid player Esteban Granero and the young talent Rubén Pardo. Both players are rough diamonds who were praying for a manager to gave them confidence and opportunities.
Granero showed his skills years ago surrounded by Cristiano, Xabi Alonso or Benzema. But his last few seasons have not been as fruitful as he might have expected. When the Madrid-born player arrived in London, he was like a dog with two tails. But the player nicknamed El Pirata (the Pirate) was unable to catalyse any discernible improvement in QPR's fortunes, any suffered the ignominy of relegation in 2013. Now he is starting to get his groove back, thanks to the confidence instilled by Moyes.
Granero's ally in the midfield, Pardo, was Spain's star of the European under-19 championships in 2011. His talent was so obvious that Real Madrid made a seven-figure bid before he had even made his debut in La Liga at the age of 19. But his alleged lack of physical condition was used as an excuse by Jagoba Arrasate, David Moyes's predecessor in Anoeta, to bench him.
After years struggling with injuries, conservative managers and the absence of luck, both Granero and Pardo are starting to delight. Their progression is, no doubt, Moyes's biggest achievement since his arrival at San Sebastian. Pardo is showing great skills in recovering posession - proving his critics wrong- and his passing statistics are as good as they come. Meanwhile Granero has turned into Moyes's quarterback due to his leadership, commitment and his knowledge of English.
But the manager is going to need more than a a couple of technically gifted players and a clearly-defined football style to improve Real Sociedad's output.
There was some controversy during the winter transfer period. The Scotsman requested major signings in order to strengthen all the areas of the team. He admitted, during a press conference, that he would be grateful if three or four players arrived, saying that he wanted speed and strength. Loren Juarros, sporting director, negotiated with Joel Campbell (Arsenal), Mohammed Salah (Chelsea), Nabil Bahoui (Aik Solna) and Nene (a free agent) but he was not able to close a single deal.
The inactivity was very disappointing for the fans, for Moyes and mostly for the club, especially when one considers that the Basques have received almost €100M in the last two years from the sales of Griezmann, Bravo, Illarramendi and Seferovic, and bonuses related to their appearance in the Champions League last season.
Jokin Aperribay, Real Sociedad's president, blindly trusts his capacity to build up teams and a revolution is expected in San Sebastian next summer, not only when it comes to players, but also with the training methods. Sources coming from inside the club suggest that Moyes is considering the signing of a physical and a goalkeeping coach and he is considering the option of giving his assistant, Billy McKinlay, a bigger role during the matches.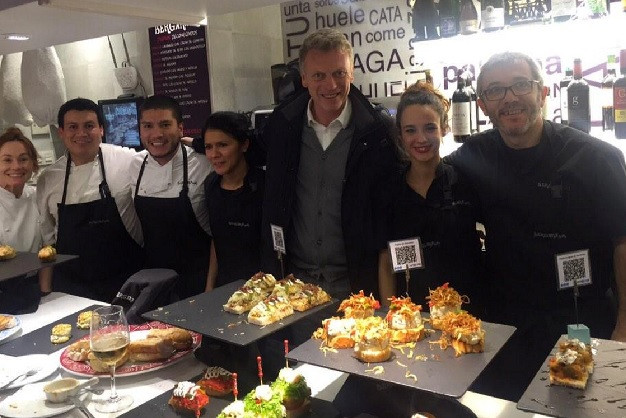 Yet, despite some rumours to the contrary, Moyes is starting to enjoy the Basque Country's way of life. After living for three months in the 5-star Hotel María Cristina, famous for the presence of cinema stars during the international festival that takes place every September, he has transferred to a landscaped house with a big garden "for his dogs".
He goes jogging through San Sebastian's streets almost every day -even in the mornings before the home games- along the coast. And Twitter has already witnessed plenty of photographs of him enjoying the best high cuisine bars and restaurants in the city.
The manager's development goes further. He is improving his spanish skills thanks to his teacher Joe Calvo, a Londoner and Manchester United supporter. In an interview given to Noticias de Gipuzkoa, Calvo, who is used to give lessons to many Real Sociedad players, admits that "I have not had such an enthusiastic pupil, he loves the city, the people and the food".
Perhaps David Moyes is a smart guy; after all San Sebastian has more Michelin Stars per square kilometre than any other city in the world behind Kyoto. It's a long way from Preston, in very respect.
Oier Fano Dadebat is a Spanish journalist who divides his time between San Sebastian and London. He writes about Spanish football for IBTimes UK. You can find out more about him on Twitter @oierfano.