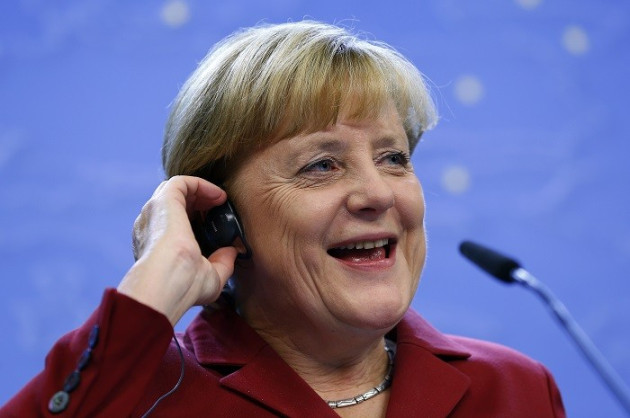 German Chancellor Angela Merkel is sending her top intelligence chiefs to Washington next week to demand answers about the US monitoring her mobile phone.
Merkel is seeking action in this deepening row after accusations that the US National Security Agency accessed tens of thousands of French phone records as well as monitoring the German leader's private phone.
Merkel is one of 35 world leaders to have been monitored by the US, according to an NSA document leaked by whistleblower Edward Snowden.
"We are talking to the Americans to clear things up as quickly as possible," the German government's deputy spokesman Georg Streiter said.
"A high level delegation will travel for talks with the White House and National Security Agency to push forward the investigation into the recent allegations," he told a news conference.
Berlin will send the heads of its foreign intelligence agency BND and its domestic counterpart, the BfV. Merkel's chief of staff Ronald Pofalla, who is responsible for the intelligence services, may also be Washington bound.
In a telephone call to Barack Obama, Merkel said snooping on her would be a "breach of trust" between international partners.
"Spying between friends, that's just not done," Merkel warned, as she was heading into a EU summit earlier this week.
The White House has denied the United States is bugging Merkel, but Washington officials have also refused to admit whether it has done so in the past.
At the EU summit, the German chancellor said she conducted conversations about party political issues and matters of state through a variety of channels.
"For all communication relevant to matters of state there are landlines, encrypted lines and if you are away from the landline, there are encrypted mobiles," she said, later adding that "those [mobiles] which are less encrypted are more likely to be bugged than those that are encrypted".
The number of Merkel's phone had originally been found on an NSA list by Der Spiegel, and the information was then passed on to the German government.
What remains unclear is when and for how long the surveillance took place, and exactly what information the NSA was trying to retrieve.
ALSO READ: Germany and Brazil take fight against NSA surveillance to the UN