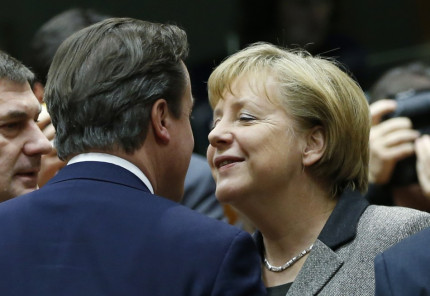 David Cameron has been dealt a thinly-veiled rebuke by German Chancellor Angela Merkel for issuing "threats" and making too many public statements in his campaign to stop arch-federalist Jean-Claude Juncker becoming the next EU Commission president.
The prime minister's hand was strengthened ahead of a mini-EU summit in Sweden when he won backing from both Labour and the Liberal Democrats in his bid to block the appointment of former Luxembourg premier, which he has described as a "stitch up".
But as the contest for the new president moved up a gear amid suggestions Merkel, the key player, may be willing to accept a compromise candidate, the two leaders once again clashed over the campaign.
Speaking at a joint press conference in Sweden, Merkel simply repeated her view that Juncker is the candidate for the job saying: "I want him as president."
She also expressed irritation over Cameron's claim that he wanted Britain to stay in the EU after the planned 2017 referendum, but that his job achieving that would be harder with Juncker in post.
The German chancellor said the process, which sees national leaders agreeing a candidate whose name is then put before the European parliament for ratification, should be respected.
"If we are well advised, we respect each other. Threats should not be used here. There have been enough public statements," she said, in what amounted to a direct rebuke to Cameron.
The prime minister has insisted Juncker's federalist leanings make him unsuitable for the post, at a time when European voters had clearly demanded change.
He has the support of some smaller EU states and there are signs that other leaders are ready to seek a compromise candidate.
Ed Miliband's support has clearly helped him but it has also left him open to attack if he fails to get his way, having so publicly revealed his hand weeks before the final decision is taken at the end of the month.
Juncker is the favoured candidate because his party is a member of the dominant European People's Party of centre-rightists in the Brussels parliament, the group Cameron withdrew his Tory MEPs from, believing it to be too Europhile.
That has already seen him accused of reducing the UK's influence in Brussels and if he fails to block Juncker, his opponents will argue he was weakened because of his reduced influence in the EU institutions.
The issue is also hanging over the appointment of the UK's next Brussels Commissioner, a job it appeared was to be offered to Commons leader and former minister Andrew Lansley.
That deal may yet be complicated by the row over the Commission president as the nations manoeuvre to carve up the institution's big jobs, such as the foreign affairs portfolio.