Angela Merkel sparks outrage after explaining to crying Palestinian girl why she might be deported [Video]
German Chancellor Angela Merkel has sparked outrage online after she explained to a crying Palestinian girl on live television why she might be deported.
During a televised conversation with high-school students in the northern city of Rostock, the 12-year-old asylum seeker, identified as Reem, explained in fluent German that she had been in the country for four years after previously living in a refugee camp in Lebanon. She said she feared she would soon be deported if her refugee status is not accepted.
"Recently, we were going through difficult times because we were about to be deported. I was feeling really terrible, also here at school, something the teachers and other students saw as well," she said.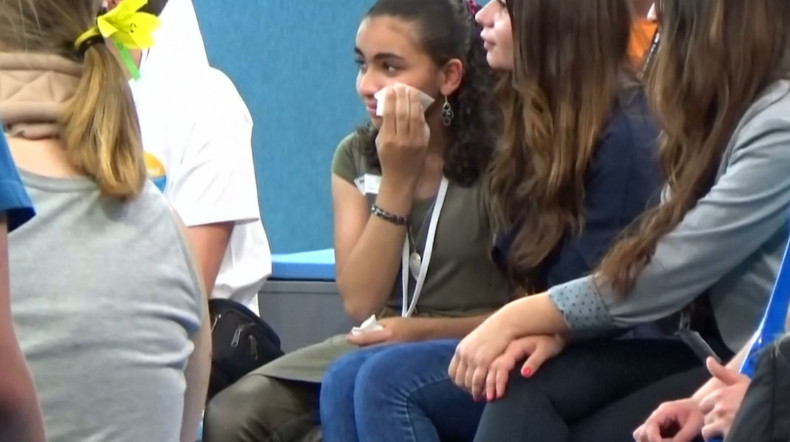 Flustered by the encounter, Merkel responded by saying: "I understand that. Yet, sometimes politics is hard. When you stand in front of me and you are a very nice person, but you know in Palestinian refugee camps in Lebanon there are thousands and thousands [of people] and if we say you can all come and you can all come from Africa and you can all come. We can't manage that."
When the teenager began to cry, Merkel started stroking her back and praising her speech saying, "You did a great job," only for the moderator of the discussion to point out that the young woman was crying more because of her difficult situation than over whether she had done a good job in presenting her views.
The incident has provoked outrage at the chancellor's actions both in Germany and abroad, with many criticising her cold and unsympathetic attitude to the young girl's predicament.
A video clip of the exchange has now gone viral, with the Twitter hashtag #merkelstreichelt (merkelstrokes) trending online.
Immigration has become a hot political issue in the country with growing pressure on Merkel's conservative government to take a harder line to the growing number of asylum seekers entering Germany from the Middle East and Africa.
The country received 202,815 asylum requests in 2014, more than twice as many as any EU country, and is expecting numbers to double in 2015.
There has also been an increasing level of attacks on refugees in the country, with 150 reports of attacks on asylum seekers so far in 2015, already nearly as many as in the whole of 2014.