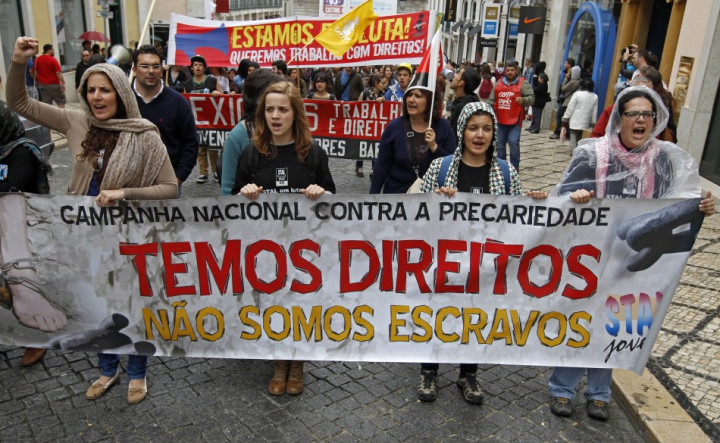 German Chancellor Angela Merkel will hold a summit with Europe Union leaders today in a bid to tackle soaring Eurozone youth unemployment.
With jobless youth rates hitting record highs, such as Greece and Spain reporting over half its young people population without a job, the summit is aimed at how best to spend €6bn (£5.1bn, $7.82bn) in the next two years to create jobs and provide training and apprenticeships.
The 27-nation bloc has also already agreed to raid any unspent EU budget funds after the two year period to tackle youth unemployment.
However, critics are calling the summit a sham, as it is merely a way for Merkel to drum up support ahead of the German elections in September.
Protests are scheduled for just after 1300BST as groups of unemployed young people and unions plan to voice opposition to her strict policies on cutting public spending which, they say, is the reason for the lack of available jobs.
Merkel is one of the EU leaders to heavily insist on over-indebted states slashing public spending in order to tackle the Eurozone sovereign debt and crisis and receive bumper rescue packages.
Analysts have shown that the €6bn earmarked for tackling young people jobless rates is a drop in the ocean, as government schemes to get the young and jobless back into work will fail due to the lack of funds.
A report by Societe Generale (SG) claims the EU will need at least €24bn to fund schemes or plans to tackle the problem, as youth unemployment around the bloc hits record highs.
The eurozone youth jobless rate stands at 24.4% which totals more than 5.6 million young people. The worst affected countries in the troubled single currency area were Greece (62.5%), Spain (56.4%), Portugal (42.5%) and Italy (40.5%).
Greece, for example, has agreed as part of its rescue package terms to cut 15,000 public sector jobs by the end of 2014.
It has, now, two days to prove it can deliver on austerity measures set out by lenders in order for it to receive its next tranche of bailout cash and one of the only ways to do this is by proving it is axing more jobs.
On Monday, Standard Chartered's Europe CEO Richard Holmes told IBTimes UK that the private sector was leading the way for effectively trying to stem rocketing youth jobless rates in the eurozone.
"Youth unemployment is a problem that will not go away and it is a difficult one for the UK government, as well as others, to solve," said Holmes.
"One of the main ways to tackle this is by offering more apprenticeships, mentoring and providing more opportunities for young people."
Last week, Nestle's Europe boss Laurent Freixe unveiled his plans to hire 20,000 young people across the globe by 2016 to Employment Commissioner Laszlo Andor.
"Governments cannot solve the problem alone. In the context where Europe is ageing and indebted, Europe needs its youth at work. We need to replace the generation of the babyboomers when they retire," said Freixe.