In what was a key test of her popularity ahead of next year's parliamentary elections, partial results show Angela Merkel's ruling CDU party has been beaten into third place by anti-Islam and anti-immigrant parties in her constituency of Mecklenburg-Vorpommern.
Exit polls showed her party getting 19% of the vote, behind the 21% that the Alternative für Deutschland (AfD) party took and well behind the centre-left SPD's 30%.
The AfD has taken a strident anti-Islamic and anti immigrant stance and managed to exploit Merkel's slump in popularity which is at a five-year low. Under her leadership, Germany took in 1.1 million immigrants last year leading to AfD's rise in popularity which was fronted in the state by Leif-Erik Holm.
Its co-leader, Frauke Petry, said the result of the state election has had a big impact on Merkel.
"Now it is our responsibility to make politics for the people. The people no longer trust the old establishment parties to do so," Petry said, according to the Guardian.
Meanwhile, CDU secretary general Peter Tauber said the result, which its worst ever in the state was a cause for concern.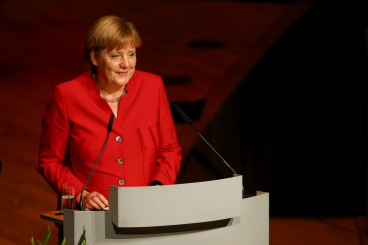 "The strong performance of AfD is bitter for many, for everyone in our party. A sizeable number of people wanted to voice their displeasure and to protest. And we saw that particularly in discussions about refugees," he said, according to the BBC.
Gero Neugebauer, a political scientist at Berlin's Free University, told the Guardian that this result could mean the twilight of the chancellor.
"If a lot of CDU members start seeing this defeat as Merkel's fault, and members of parliament start seeing her as a danger for the party and their own jobs, the whole situation could escalate out of control," he told the paper.
Ryan Heath, Politico's senior European Union correspondent, told CNN: "What she has got right now is an insurgent, surging right-wing party, the Alternative für Deutschland, that has proven that they can succeed even on her home turf, so that party has really hit a tipping point now."
Merkel is expected to make a statement on Tuesday at the G20 when the results are finalised.