Angry Birds Website Hacked Following Links to NSA Spying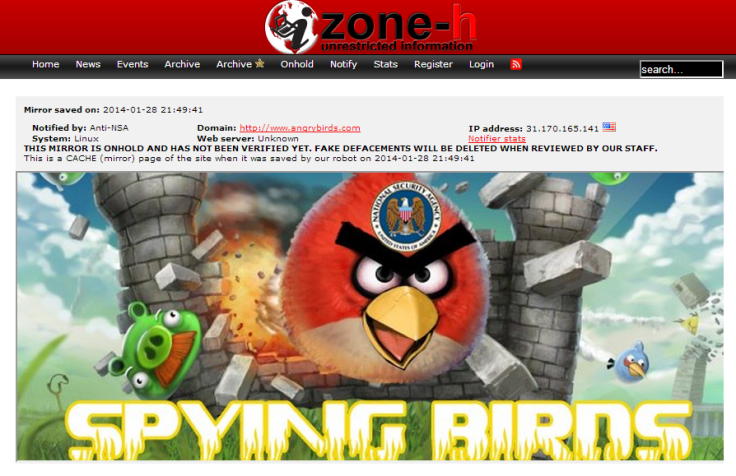 A hacker defaced the Angry Birds website in protest, following reports that US and UK spy agencies were using data from the smartphone game to spy on users.
The defacement was carried out by a "friend" of the well-known hacking group the Syrian Electronic Army, who described the unknown attacker as an "anti-NSA hacker".
The hacker posted an image on the angrydirds.com website on Tuesday night, with the tagline "Spying Birds" below an image of one of the Angry birds characters emblazoned with an NSA logo on its forehead.
The Finnish smartphone game develop Rovio which creates the Angry Birds games has confirmed to IBTimes UK the attack took place:
"Yes, unfortunately last night the Angry Birds website was momentarily defaced, but the situation has been dealt with by our IT security. The end user data was in no risk at any point," a spokesperson said.
The identity or location of the hacker is unknown, as is the method they used to access the website's contorls.
Piggybacking
On Monday it was revealed though documents leaked by Edward Snowden that the NSA and GCHQ were able to "piggyback" on private user data which apps like Angry Birds collect.
Rovio responded to say it does not "share data, collaborate or collude with any government spy agencies such as NSA or GCHQ anywhere in the world."
However the company went on to confirm "the alleged surveillance may be conducted through third party advertising networks used by millions of commercial web sites and mobile applications across all industries."
Immune
The statement from Rovio continued:
"If advertising networks are indeed targeted, it would appear that no internet-enabled device that visits ad-enabled web sites or uses ad-enabled applications is immune to such surveillance. Rovio does not allow any third party network to use or hand over personal end-user data from Rovio's apps."
The CEO of Rovio Mikael Hed said the entertainment company would have to "re-evaluate working with these networks if they are being used for spying purposes."
The leaked documents showed GCHQ used the Angry Birds app – downloaded more than two billion times – as an extended case study to show what types of data agents could collect through the ad networks which it used.
While Angry Birds is a paid-for app on some platforms there are also numerous free versions which make a profit for Rovio by displaying ads to users.
© Copyright IBTimes 2023. All rights reserved.