Angry homeowner ingeniously uses Google Maps to call neighbour an a**hole
Dispute over purple-coloured garage door prompts elaborate revenge scheme.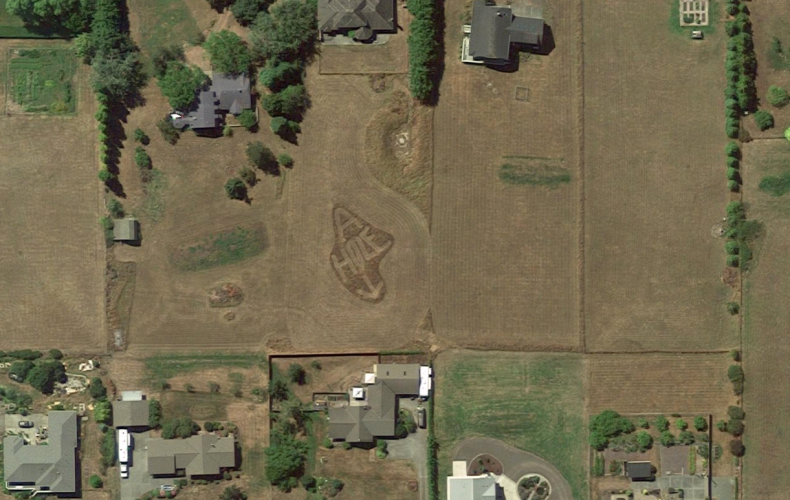 A heated debate over garage doors led one US homeowner to enact an unorthodox (and hilarious) revenge scheme using Google Maps to show the entire world how they feel about their neighbour.
Knowing that Google Maps has an overhead satellite view, a Sequim, Washington resident took to their garden and mowed a message that was later spotted by sharp-eyed netizens. The chucklesome carving contains an arrow pointing at the neighbour's property and a none-too-friendly description of its owners: "A-Hole".
A screenshot of the stealthy snipe has now gone viral on Reddit, and the message is still available to see on Google Maps by typing in the coordinates "48°08'34.7"N 123°10'08.6"W".
One Reddit user found that the message has been in place for as long as four-to-six years by using Google Earth's timeline feature - presumably maintained with careful grass trimming efforts by its creator.
As for the reasoning behind the uncharitable jab, fellow Reddit member "HeadphoneJackal" may have found an answer.
"Some neighbors put up a purple multi-car garage," the forum user said in a post. "Very purple. And big. Several neighbours started complaining that it was ugly and petitioned the city for property tax relief because they claimed this garage drove down property values."
According to regional paper Peninsula Daily News, the gaudy garage was dubbed the "purple people-eater" by some locals, and Reddit appears convinced that its creation is to blame for the satellite slap-down.
It's unclear whether or not the two are actually connected, but if it was the instigator of the entertaining feud it may have been boiling away for quite some time as the Peninsula report is dated as far back as 2009.