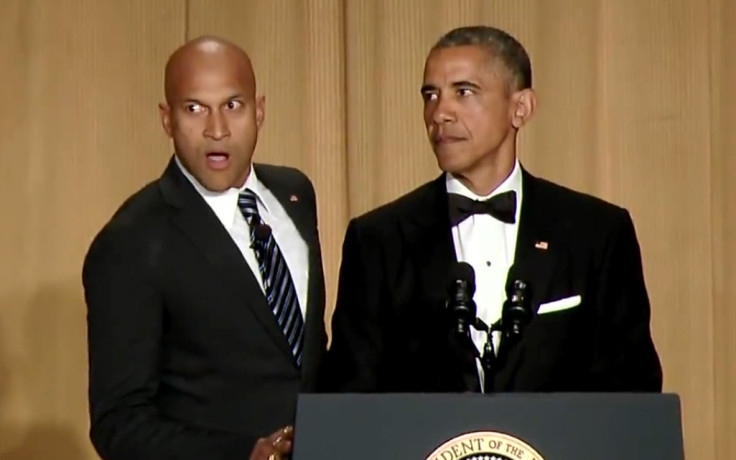 President Obama has found an unusual way to roast his opponents by getting a popular Comedy Central comedian to do it for him at the annual White House Correspondents' Dinner on 25 April.
Ending his serious opening speech on a hilarious note, Obama brought out Luther, his "anger translator" (played by stand-up comedian Keegan-Michael Kay) to stand behind him and take shots at Fox News, CNN, and Republican Grand Old Party (GOP) climate change deniers.
"Honestly, what they say doesn't bother me, I understand we've got an adversarial system," Obama said in his opening speech, addressing the anti-Obama criticism that has risen in the last few months.
"I'm a mellow sort of guy, and that's why I've invited Luther, my anger translator to join me here tonight."
Obama has been particularly well known through his presidency for always talking in calm, measured tones and trying to avoid getting angry, no matter what is said to him, and it has become an internet hobby for people to put up video examples whenever someone succeeds in getting him to lose his cool.
The US president also found time to lend support to Democratic presidential candidate Hillary Clinton, with Luther making jokes about how she will be "getting all that money", perhaps a tip to Peter schweizer's new book Clinton Cash, which has made allegations about the Bill, Hillary & Chelsea Clinton Foundation and Hillary's conduct during her term as secretary of state.
Poking fun at conspiracy theorists who still seem to think he is a Muslim, Obama said: "Being president is never easy. I still have to fix a broken immigration system, issue veto threats, negotiate with Iran, all while finding time to pray five times a day."
Unlike his predecessors, Obama is probably one of the most creative presidents in US history when it comes to keeping his people's attention – in February 2015, he filmed a video with BuzzFeed that went viral in order to promote Obamacare.
The video saw him playing with a selfie stick, making silly faces and trying to show his more "human" side, a definite first in White House history.
Key & Peele, a popular segment on the Comedy Central, has been parodying Obama's time in the White House for the last three years. Some of their best sketches have included Obama's college years smoking weed, Obama having therapy for anger issues and Obama teaching Malia to drive.