Technology, industry, economic growth, Mars mission, animal sacrifice. Spot the odd one out.
Though animal sacrifice remains common in Hindu temples and during the Islamic holiday Bakri-Eid, an increasing number of Indians believe that animal sacrifice, like sati (widow burning) and human sacrifice, has no place in modern India.
Earlier this week, supporters of People for the Ethical Treatment of Animals (Peta) India and the Federation of Indian Animal Protection Organisations (FIAPO) gathered outside the Embassy of Nepal in Delhi, the palms of their hands raised and painted blood red.
The protest was designed to urge Nepal to ban animal sacrifice before the upcoming Gadhimai Festival, scheduled to take place in November where an estimated 500,000 buffaloes, pigs, chickens, pigeons and other animals will be killed in the name of Hinduism.
Prior to October's Bakri-Eid festival, during which goats and other animals are traditionally sacrificed, India's government-run Animal Welfare Board issued guidance to state governments stating cows and camels must not be killed and that any slaughter of other animals must only happen in licensed slaughterhouses and not in roads and alleyways.
Following a two-day event held at the Indian city of Raipur in March in which over 200 Muslims from numerous Indian states participated and exchanged their views, the Muslim Gaurakshak Sammelan, a forum for Muslims from all over India to gather and exchange views, demanded that cows should not be killed.
Also, prior to Bakri-Eid, a female Peta Muslim staff member attempted to peacefully appeal to Muslims in Bhopal to have a vegan Bakri-Eid, but was physically assaulted before her awareness programme even began. People of all religions, including many Muslims, condemned the attack.
Many Hindus believe animal sacrifice contradicts the Hindu principle of ahimsa (non-violence), while Muslims who oppose sacrifice often point out that humane treatment of animals is required by the Qu'ran.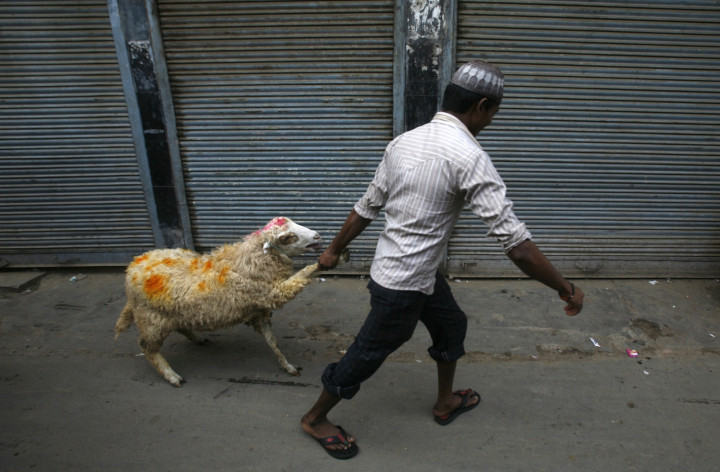 Progress – but potential flashpoints ahead
In 2010-11, the High Court in Uttarakhand state deliberated on a public interest litigation aimed at banning animal sacrifice.
During the case, it was discovered that numerous Hindu temples had already voluntarily chosen to do away with sacrifice. The court observed that some persons contended that if animal sacrifice is stopped, "there will be unjust interference with the religion of the people, who sacrifice animals".
The court, however, learned upon inquiry that in 2011, no animals were sacrificed at the festivals Bhookhal Kalinka Mela or the Shukla Paksha. It concluded: "Therefore, it is clear, from the conduct of the people of the State, that there is a consciousness not to sacrifice animals to appease the Gods..."
The court considered the Indian Prevention of Cruelty to Animals (Slaughter House) Rules, 2001, which states "animals [are] not to be slaughtered except in recognised or licensed houses" and concluded "that in view of the law made, despite there being [an] old tradition of sacrificing animals to appease deities, no such sacrifice is permissible outside a slaughterhouse".
The court made an exception for rural areas where licensed slaughterhouses may not exist, but clarified that there "it is obligatory on the part of the State to ensure that such destruction/killing/sacrifice is for the purpose of arranging food for mankind and for no other purpose". The High Court's decision paved the way for a more legal progress on the subject of animal sacrifice.
Meanwhile, in a historic move earlier this year, the High Court in Himachal Pradesh banned animal sacrifice in the state.
In its order, the court observed "sacrifice causes immense pain and suffering to the innocent animals" and that "compassion is basic tenets in all the religions". It referred to animal sacrifice as "a social evil" that is "required to be curbed".
Flashpoint in Nepal
Just this week, the Indian Supreme Court issued a notice to various state governments to restrict export and transport of animals to Nepal from India to stop animals from being transported across the border to be killed at the upcoming Gadhimai festival.
Thousands of Indians from Bihar, Uttar Pradesh and other states bordering Nepal are expected to try to attend the Gadhimai Festival in efforts to circumvent the ban imposed on animal sacrifices in their own states. It is estimated that around 70% of the animals killed in Nepal are from India and killed by Indians.
On the other side of the border, animal protection group Animal Welfare Network Nepal reportedly plans to file a petition at the Nepal Supreme Court in the coming days and push its government to stop cruelty to animals in the name of sacrifice.
Animals killed for religious sacrifice are typically held down and hacked at with blunt knives by untrained persons. They struggle to live and death often takes several long minutes to occur. The animals' bodies are sometimes eaten, and otherwise are simply left to rot.
The manner in which the animals are handled, transported and killed for animal sacrifice also typically violates India's Prevention of Cruelty to Animals Act 1960, its Transport of Animals Rules 1978 and the Slaughterhouse Rules 2001 making it a punishable offense.
Ram Chandra Shah, chairman of the Gadhimai Festival organising committee, has reportedly remarked cultural sentiments and beliefs are hard to change. But changing they are, with more Indians wanting India's global reputation to be about modernity and progress, and not about outdated traditions like animal sacrifice.
Poorva Joshipura is CEO of Peta India. To support Peta India's efforts to end animal sacrifice or its activities to help animals in other ways, log on to PETAIndia.com.