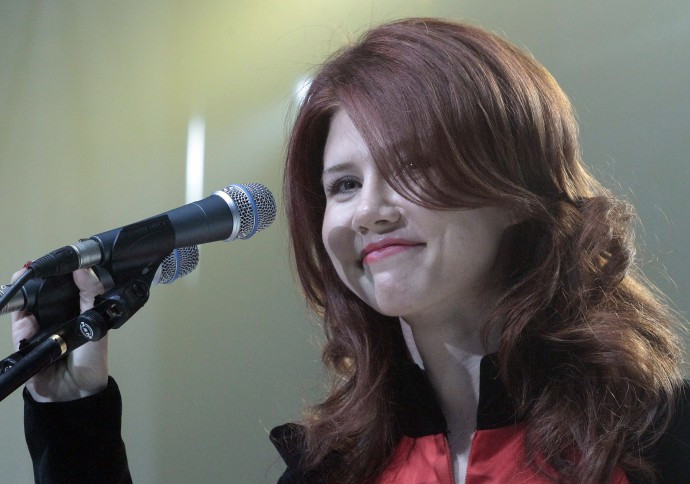 The FBI has released declassified pictures, videos and other documents of ten Russian spies who were arrested and deported last year, including footages of the famous spy Anna Chapman, who became an international sensation after details of her nude pictures emerged last year.
The previously unseen material show how Chapman and the other spies operated in the U.S. before being arrested.
One video showed Anna Chapman, meeting an undercover U.S. agent in a New York coffee shop in June 2010, where the FBI agent asks her to provide him with a fake passport for another spy.
A second video shows Chapman in a department store, looking rather bored while a "Russian government official" waits for her outside, the FBI said.
Other footage shows three other agents who were later on arrested along with Chapman. Photos show members of the same spy-ring in different public places, holding meetings or walking in the streets.
"The arrests of 10 Russian spies last year provided a chilling reminder that espionage on US soil did not disappear when the Cold War ended," the Federal Bureau of Investigation said in a statement.
However the FBI rapidly added that the spies "never got their hands on any classified documents, their intent from the start was serious, well-funded... and far-ranging."
Chapman, also known as "the Russian spy babe", and "the undercover femme fatale" was deported from America to her native Russia last year, after being exposed as a spy.
She was arrested along with other agents in June 2010 following a 10-year long investigation code-named "Ghost Stories" and all were deported after pleading guilty to espionage charges.
Far from hiding from public view Chapman became an international sensation and used her time in the limelight to acquire her own chat show and do a string of modelling jobs.
While she gave a rather glamorous account of her time as a spy, the footages recently released provide a different account as meetings are often held furtively.
In most of the videos, Chapman appears nervous and worried someone might be 'watching.'
The spies often married each other, often worked in duo and were mainly living a banal life. Some of them were however asked to get close to prominent political figures.
However most of the documents provided have been redacted, focusing on the mission statement that the Russian foreign intelligence service or SVR gave the spies rather than their lives in the U.S. and details about their relationships outside of the ring.
The release of the documents comes at a time where another Russian, Katia Zatuliveter, 26, is fighting deportation in the UK after being accused of being a spy an.
Obeservers have also said the FBI's move can be seen as a swipe at Russian President Dmitry Medvedev who awarded the ten spies who were deported with the country's highest honours.