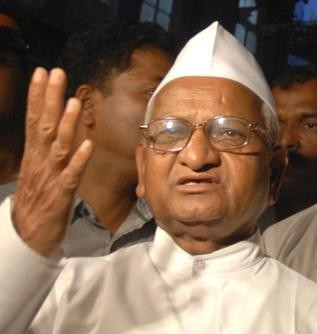 The arrest of anti-corruption activist Anna Hazare has provoked a wave of protests across India, as thousands supporters gathered outside his jail Tuesday.
Hazare was arrested Tuesday along with leading anti-corruption campaigner Shanti Bhushan, former police chief Kiran Bedi and more than 1,300 supporters -- provoking a wave of outcry that the government, it appears, did not anticipate.
People were already angry at the government after a series of corruption scandals involving government ministers, Congress Party leaders and their allies, but Harare's arrest has ratcheted up public anger.
Prime Minister Manmohan Singh criticised Hazare's hunger strike campaign, but his speech in Parliament was interrupted by cries of "shame" and jeering from opposition MPs.
"I acknowledge that Anna Hazare may be inspired by high ideals," Singh said. "However, the path that he has chosen to impose a draft of the bill on Parliament is totally misconceived."
While Singh said everyone agreed that an anti-corruption bill should be passed, but, "The question is who drafts the law and who makes the law?"
"Anna Hazare wants to impose his bill on parliament," he asserted.
Protests against the activist's arrest increased rapidly, and many people were seen carrying the Indian flag and shouting anti-corruption slogans.
Supreme Court lawyers have vow a march to show their support for Hazare and auto-rickshaw drivers have gone on strike to protest corruption.
The Hindu nationalist Bharatiya Janata Party and the Communist Party of India criticised the ruling Congress' leadership, including acting leader Rahul Gandhi. And under increasing pressure, the government ordered the release of the movement's leaders, including Hazare.
Defying the government, the 74-year-old Gandhian social activist refused to go until he was allowed to continue his protest in New Delhi's Jayaprakash Narayan Park and instead spent a night in Tihar jail in Delhi.
An aide also said he was continuing his hunger strike in prison.
The government had first tried to legitimise its decision to arrest Hazare and his followers, with Home Minister P. Chidambaram saying the authorities were forced to act to stop Hazare from breaking an order prohibiting any mass protest in the park.
Anna Hazare and his supporters had apparently anticipated his arrest as they released a pre-recorded video calling for a "second freedom struggle" against corruption.
Hazare's supporters have clashed with the government over the scope of its Lokpal bill to create an anti-corruption watchdog.
After nine meetings with the government, Hazare and his supporters came up with their own version of the Lokpal (Citizen's Ombudsman) bill, which they say should be made into law.
But the government is insisting on its own anti-corruption bill, which it says contains 34 of the 40 principles of Hazare's bill; it is now being studied by a parliamentary committee.
The decision did not satisfy Hazare and his supporters, who said the law should be tougher and not exempt top officials like the prime minister.
Hazare said the legislation is a "cruel joke" and describes his struggle as the "second war of independence."
It seems that if Singh wants to keep popular discontent in check and restore a level of confidence in his government, negotiations with Hazare and his followers need to be reignited.
The activist, by refusing to leave jail, has shown he is willing to defy the government even further, and the latest show of support from different factions of Indian society will only bolster his campaign.