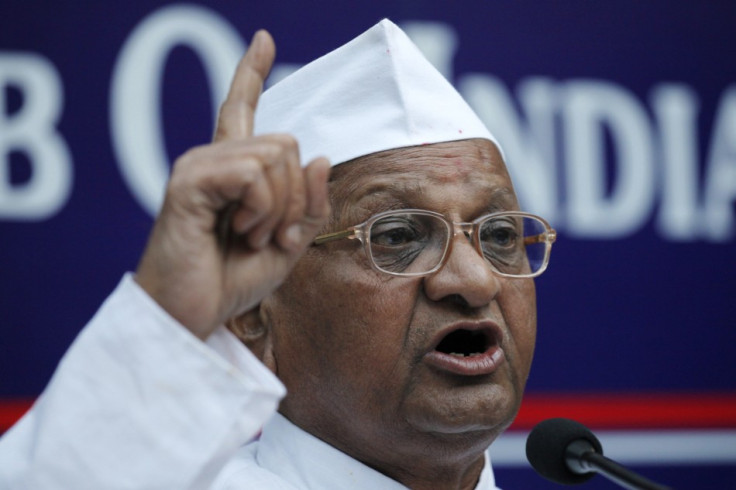 Three activists and close aides of Anna Hazare, Arvind Kejriwal, Manish Sisodia and Gopal Rai said they would continue their hunger strike indefinitely in a bid to pressure the government into taking stronger measures against corruption in India.
Hazare who has been leading a camping for tougher anti-corruptions measures for 16-months, has vowed to join the fast on July 29 if there is no immediate action by the government.
Hundreds of people joined the 74-year-old and gathered near the Parliament in support of the anti-corruption campaign, with many waving flags and calling on the government to act.
Hazare criticised previous efforts by the government.
"The government has repeatedly betrayed the people. It does not want the bill to be passed because so many ministers have been implicated," Hazare told reporters.
Arvind Kejriwal also attacked Pranab Mukherjee, who was sworn in as president on the same day, saying the government is continuing to ignore allegations of corruption against him.
"According to Constitution, the President has immunity against any investigation. We have given evidence against Mukherjee to Prime Minister Manmohan Singh and Congress chief Sonia Gandhi two months ago. But there was no probe," Kejriwal said.
"In the name of Constitution, now government has masked the allegations against him. We condemn this."
Activists call on the government to take up the anti-corruption bill when Parliament resumes Aug. 8.
Hazare and his supporters also call for an investigation into allegations of corruption to be launched against 14 members of the cabinet.
An anti-corruption bill was approved last year by the lower house of Parliament but has yet to be voted on by the upper house.