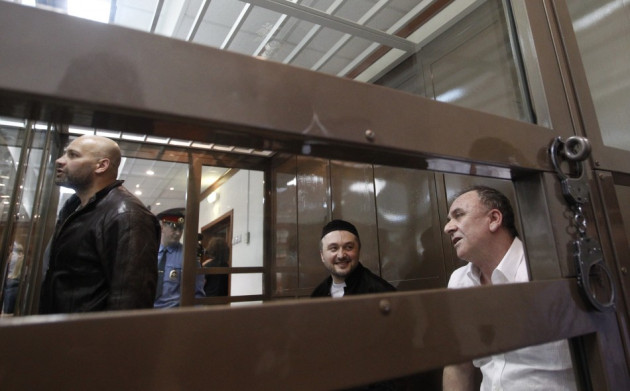 Five men accused of murdering Russian journalist Anna Politkovskaya have pleaded not guilty in a Moscow court.
The children of the deceased boycotted the proceedings and accused judges of stripping them of their right to be consulted for jury selection.
Vera and Ilya said that Judge Pavel Melekhinat ignored their plea for a postponement of the opening of the trial because they would not be able to get there.
"The court has violated our legal rights," they said. "We have waited almost seven years for the killers to stand trial but the state could not wait a few days.
"A patently illegitimate process begins. We refuse to take part in such a trial."
Politkovskaya, who denounced human rights violations in Russia's war in Chechnya, was shot dead in the elevator of her apartment building in 2006.
The defendants include members of the same Chechen family and a former police official.
Novaya Gazeta, the opposition newspaper Politkovskaya worked for, speculated that the trial was being rushed to arrive at a verdict before the anniversary of the journalist's death on 7 October - which is also President Vladimir Putin's birthday.
"We are concerned by a tendency of the authorities to complete investigations in time for calendar anniversaries," Novaya Gazeta spokeswoman Nadezhda Prusenkova said.
"Now we have a suspicion that they want to end this trial just in time for another anniversary of Anna Politkovskaya's death."
The judge denied the accusations and said the jury had been selected in full compliance with the law.
Prosecutors believe Chechen businessman Lom-Ali Gaitukayev was ordered by an unidentified mastermind to organise the killing for $150,000 (£97,000).
He hired three relatives, Rustam, Ibragim and Dzhibrail Makhmudov, and a former policeman, Sergei Khadzhikurbanov, as hitmen, prosecutors claim.
A first trial ended in 2009 with the acquittal of three of the defendants but the sentence was overturned by the Supreme Court.
Another former police officer, Dmitry Pavlyuchenkov, was jailed for 11 years for supplying the murder weapon.