Anna Politkovskaya: Former Cop Charged with Killing of Anti-Putin Journalist
Dmitry Pavlyuchenkov could face life in jail if convicted of plotting murder of campaigning journalist Anna Politkovskaya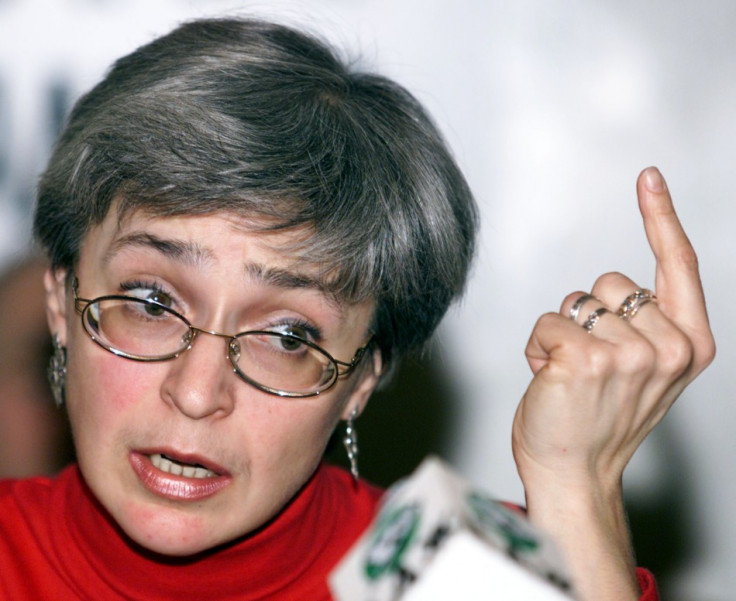 Six years after the killing of Russian journalist Anna Politkovskaya, a former policeman has been charged with plotting to kill her.
It is alleged that former police colonel Dmitry Pavlyuchenkov used his official powers to keep tabs on the journalist, whose work exposed corruption, criticised President Vladimir Putin and condemned atrocities committed by Chechnya's Moscow-backed authorities.
The ex-policeman is accused of hiring a Chechen businessman, Lom-Ali Gaitukayev, to put together a six-man hit squad for the murder, and of arming the gunman who eventually killed Politkovskaya in the hallway of her central Moscow apartment block in October 2006.
"The investigators have now clearly identified the role of the former Moscow policeman Dmitry Pavlyuchenkov in the crime, and have presented him with charges," Russia's Investigative Committee said on Monday.
The rest of the team allegedly put together by Gaitukayev have also received charges, proportional to their role in the murder.
Lawyer hopes for leniency
According to Kommersant, an independent business weekly, Pavlyuchenkov could face life in prison if convicted. However his lawyer, Karen Nersesyan, has pleaded for clemency from the court.
Even though Pavlyuchenkov has already conceded that he played a role in the murder, Nersesyan says she hopes that her client's poor health, and willingness to assist the investigators' inquiries, could persuade the authorities to reduce the sentence.
"I'm not willing to speculate, but I hope that his punishment will be as lenient as possible," she told the Interfax news agency.
Human rights organisations welcomed the latest developments in the case, but urged Russian authorities to keep investigating.
"The terrible murder of Anna Politkovskaya nearly six years ago is still marked by impunity" said Nina Ognianova, Europe and Central Asia programme coordinator for the Committee to Protect Journalists.
"The authorities must continue to move forward in prosecuting those responsible for this slaying, which epitomises the injustice that has reigned in journalist murders in Russia."
Friends and colleagues of the journalist are sceptical that the latest charges represented a step forward in the case.
"Even if Mr Pavlyuchenkov did organise the killing, it's very unlikely he was the one who ordered it," said Tanya Lokshina of Human Rights Watch in Moscow. "We need to see not only the killers [and] the technical organisers, but also the mastermind brought to justice."
© Copyright IBTimes 2023. All rights reserved.