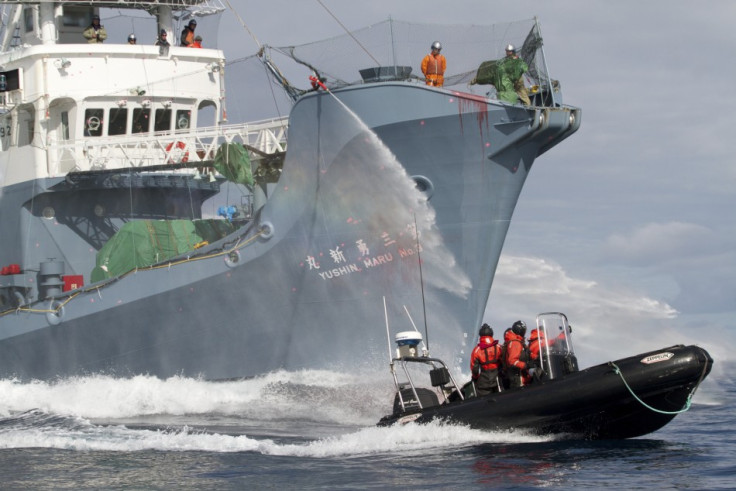 The Japanese whaling authority has launched legal proceedings against an anti-whaling group in an attempt to thwart its interference in the annual hunt.
Despite commercial whaling being banned in 1986, "lethal research" whaling is allowed and is carried out every year. Meat from the research is later sold in shops and restaurants.
Whalers regularly clash with the Washington based campaigners Sea Shepherd and are seeking a court order to stop the organisation harassing the hunt.
Vessels from both sides have regularly clashed, while Sea Shepherd members have caused havok by throwing stink bombs onto Japanese decks.
Sea Shepherd's website pledged that it would take to the water against this year's hunt in "Operation Divine Wind".
Kyodo Senpau, which owns the whaling ships, and the Institute of Cetacean research, which operates the whaling programme for the Japanese government released a statement outlining the legal challenge against Sea Shepherd's "life threatening" actions.
"Today, Kyodo Senpaku Kaisha and the Institute of Cetacean research along with vessels' masters filed a lawsuit against the Sea Shepherd Conservation Society and [group founder] Paul Watson," it reads.
"The institute of Cetacean Research and Kyodo Senpaku are seeking a court order in the US District Court in Seattle, Washington, that prevents SSCS and its founder Paul Watson from engaging in activities at sea that could cause injuries to the crews and damage to the vessels."
The statement declares the whaling programme as vital to the "advancement of scientific knowledge of whale resources in the Antarctic".
Paul Watson dismissed the lawsuit to Australian news agency AAP.
"We are not down there protesting whaling, we are down there intervening against criminal activities," he said.
"We defend ourselves against being rammed, hit with water cannons, shot at, have concussion grenades and bamboo spears thrown at us, so yes, we defend ourselves."
On the Sea Shepherd Web site, Watson vowed the organisation would continue to try and expose "illegal whaling activities" to the world.
"As long as they attempt to kill whales in the Southern Ocean Whale Sanctuary, we intend to continue returning to oppose them. Every year we have gone down stronger than the year before and every year the whalers have gone down weaker than the year before," he said.