Assad's Emails Hacked: Jimmy Carter Embraced Syria Regime before Obama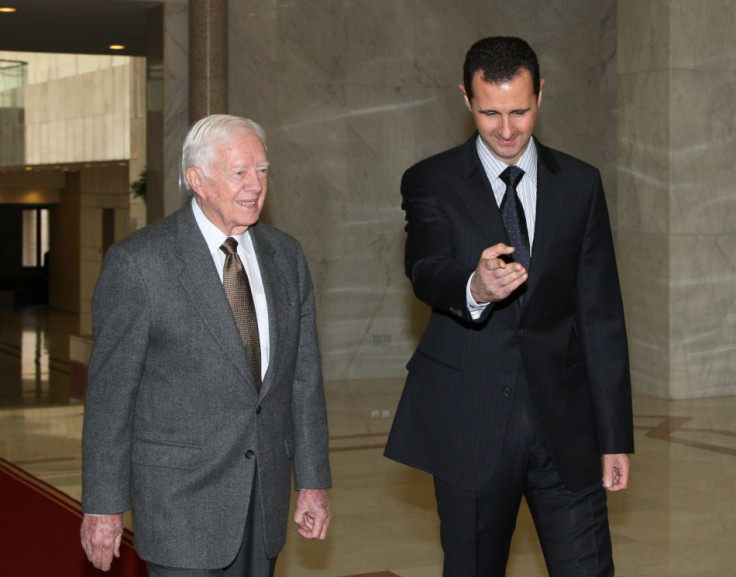 Former US president Jimmy Carter sought to boost diplomatic links with Syria and improve the image of President Bashar al-Assad as the Bush administration prepared to leave office.
In a heated email exchange between a Carter representative and Assad's spin-doctor, Bouthaina al-Jaafara, details of the plan have emerged.
David Lesch wrote to Jaafara in November 2008 to organise a visit by Carter. His email reveals US plans to boost ties with Syria before Barack Obama, who had just been elected president, entered office.
"I also wish you the best of luck in finding some funding for the PR/communication firm we spoke about so that we can have the adequate mechanism to prepare coverage for the event in December, but also to improve US-Syrian relationship at a crucial time before the next administration comes into office, to improve the image of Syria and President Bashar in the United States, and help with other forms of cooperation," he wrote.
Under the Bush administration the relationship between the US and Syria was dire. Washington described Damascus as a pariah, imposed economic sanctions and recalled its ambassador. But in 2008, an email hacked by the Anonymous group show how Professor Lesch urged Assad's representatives to carefully plan Carter's visit.
Abstracts of the emails show Lesch extremely concerned about the lack of support by Syria's Ministry of Tourism. "As we discussed in our last meeting together on October 20th, we have been less than satisfied with the assistance of the Ministry of Tourism, although we consider it to be a friendly and necessary partner in all of this," he wrote. "As I told you, the Ministry has not even replied to our e-mails or helped us arrange our past visits to begin to establish the SCWT [Syrian Cultural Walking Trail] . If this lack of help continues in this way, I do not think the December event will be a success for anyone."
In another extract, he wrote in capital letters: "We really need a note from you to the ministry of tourism strongly urging their cooperation and having authorization to plan this event accordingly. We really need our team on the ground led by Mr. Daniel Adamson and Osama al-Nouri to have the freedom to plan this event and make decisions and not wait for permission for every little thing from the ministry of tourism."
At a private meeting on October 19, 2008 between Lesch and Assad, the Syrian President confirmed that he and Carter would inaugurate the Syrian Cultural Walking Trail by walking together into the historic town of Maalula.
As recently as March 2011, Lesch wrote in the New York Times:
"The crackdown on protesters doesn't necessarily indicate that he [Assad] is tightening his grip on power; it may be that the secret police, long given too much leeway, have been taking matters into their own hands."
In his 2008 visit to Middle East, Carter also met with the political leaders of Hamas in Syria.
© Copyright IBTimes 2023. All rights reserved.