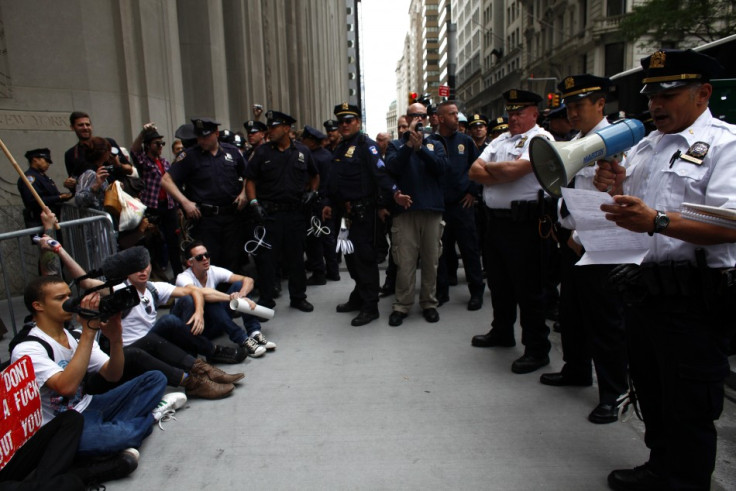 Following the growing number of reports and images emerging showing incidents of police violence against protesters taking part in the ongoing Occupy Wall Street campaign, the Anonymous collective has put out a call for aid to the world's media.
The call for aid came after three new videos emerged on the collective's AnonOps web site showing fresh incidents of police violence against seemingly peaceful protesters.
"NYPD actions were so wtf that we begin to think it was HELP to get media attention? http://www.youtube.com/watch?feature=player_embedded&v=moD2JnGTToA# But PLEASE DON'T mace us, thx :)," read the first statement released on Anonymous' AnonymousIRC Twitter feed. "Reality TV" producers. Screw your sh*t. Send camera teams to #OccupyWallstreet. http://www.livestream.com/globalrevolution This IS real."
The request comes after Anonymous and the protesters' own live video feed suffered a slew of set-backs. The problems began earlier in September when Anonymous issued a number of reports alleging that a number of the media team chronicling the protest had been arrested.
Following the initial arrests, Anonymous issued a fresh batch of statements adding that the police had confiscated a number of the media team's equipment. A call for donations to help keep the live video feed running soon followed.
The new tweets all refer to incidents that occurred during Adbusters' ongoing Occupy Wall Street protest. The campaign began Sept. 17 when around 1,000 people rallied in Manhattan's Financial District.
The protesters have a range of complaints centering on Wall Street and corporate power over American policy.
Anonymous' live video feed can be viewed here.