Anonymous #OpCharlieHebdo campaign reveals jihadist Facebook profiles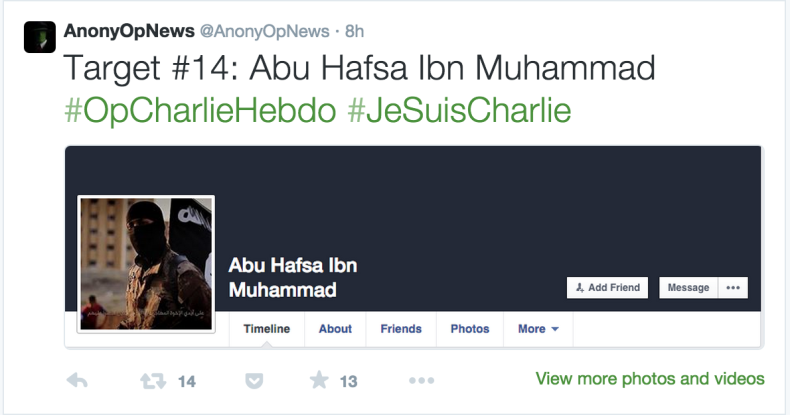 Anonymous is continuing its attack on jihadists in the wake of the Charlie Hebdo massacre in Paris last week by publishing details of 14 Facebook profiles it claims belong to jihadists.
The online hacktivist collective announced a campaign called #OpCharlieHebdo last week in the wake of the murder of 17 people in Paris by two gunmen seeking revenge for cartoons published by the satirical magazine of the prophet Muhammed.
The first victim of the campaign was a French jihadist forum which was knocked offline over the weekend and which remains inaccessible.
The 14 Facebook profiles were listed by Anonymous-linked Twitter account @AnonyOpNews on Monday night. Previously Anonymous has listed Twitter accounts that it claims belong to known jihadists calling on members of the public to report these to Twitter.
The amorphous online activist group has not this time called for similar action in the wake of publishing the Facebook profiles, however the group has said that it will be publishing more information on Tuesday, adding: "Remember jihadists, we are watching you."
The group has also said it will target any countries which are harbouring elements of Islamic State (IS), listing Saudi Arabia, Yemen, Algeria, Egypt, Libya and Syria among those in its sights.
Last week, in the wake of the attacks in Paris, a number of websites associated with Islam and Islamic practice were also attacked, but Anonymous has not claimed any responsibility for these attacks.
Announcing the campaign last week, Anonymous said:
"Attacking freedom of speech is attacking Anonymous. We will not permit it. Any organisations or enterprises linked to those terrorists attacks should expect a massive reaction from Anonymous. We are tracking you down. We will find you and not leave you any rest."