Lee Rigby: Anonymous Hacktivists Launch Operation EDL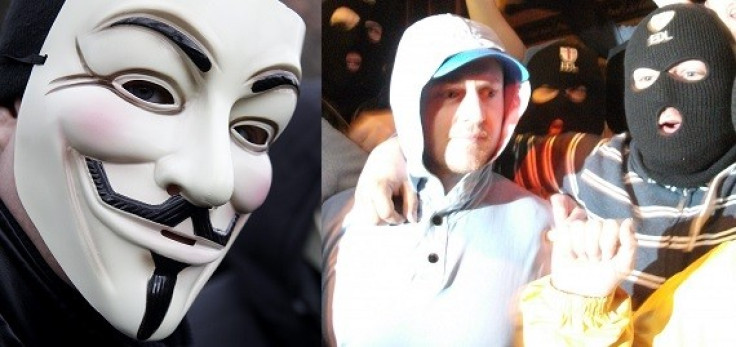 Hacktivist group Anonymous has warned the English Defence League (EDL) that the right-wing anti-islamic group will be "decimated" for its protests over the killing of soldier Lee Rigby.
Under Operation EDL, Anonymous,which gained notoriety for cyber-attacks on establishment websites, said it would expose the names, addresses and phone numbers of more than 1,000 EDL donors and members.
The group has also threatened to release the Twitter identities of hundreds of members.
The hackers said the league had "capitalised on the misfortunes of our peoples, taking advantage of moments of fear, terror and reconciliation to spread hatred and animosity towards your fellow man".
Previous campiagns by Anonymous have seen government and corporate websites hacked and shut down and private information leaked to the public.
Following the killing of Rigby by suspected Islamic terrorists in Woolwich, southeast London, the EDL has been quick to exploit anti-Muslim hysteria with a series of protests across Britain, including Woolwich and Newcastle.
What appears to be an official OpEDL Twitter account says members are in the process of getting "as many as possible" phone numbers before releasing them online.
The EDL has not commented.
A statement from the hacktivist group said: "We have been patiently observing your organisation as you have [indoctrinated] our young with your criminal mindset.
"Your constant belligerence, like a pack of raving ignoramuses, furthers only bigotry and segregation. You have angered us considerably and summoned our wrath irrevocably.
Vile and demented human beings
"Last week, an innocent drummer, Lee Rigby, lost his life at the hands of two vile and demented human beings in the most horrific and heinous manner ever witnessed on the streets of Britain.
"This villainous public display has thrown the United Kingdom into mourning; every community and every congregation extending their deepest condolences.
"You, however, have used this as another excuse to further spread your campaign of hate, bigotry, and misinformation. Under the guise of national pride you have instigated crimes against the innocent and incited the subjugation of Muslims.
"We will not allow your injustices, your lies, and your stupidity, to further radicalise our youth into fearing and despising their fellow man.
"We will begin the systematic and comprehensive decimation [sic] of your cult.
"You will fall, we can say this with complete confidence. We are everywhere, you cannot hide, you cannot win."
© Copyright IBTimes 2023. All rights reserved.