Ant Chops Off Tip Of Thumb Cooking Dinner For Dec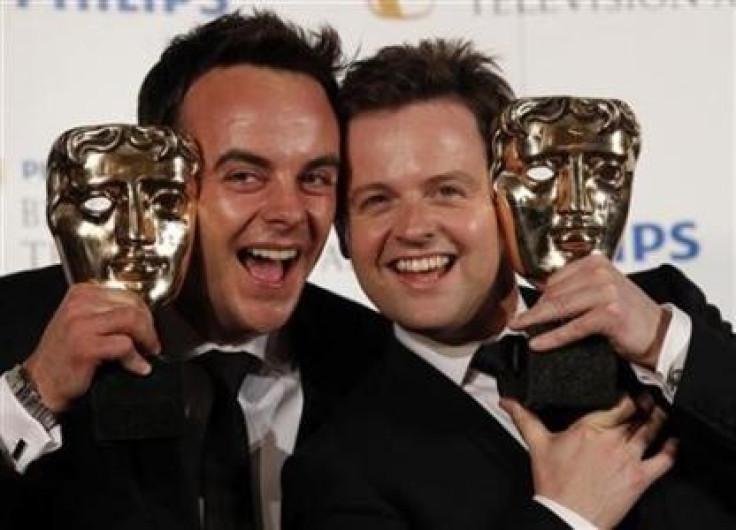 Ant McPartlin (L) reportedly sliced his thumb while making Sunday dinner.
Britain's Got Talent co-host Ant McPartlin was rushed to hospital after chopping off the tip of his thumb.
The 38-year-old star, best known as one half of popular duo Ant and Dec, is said to have severed his digit preparing Sunday dinner for his presenting sidekick.
"It hurt like hell. There was a lot of blood," he told the Sun. "I knew that to get the potatoes thin enough I'd need the proper tool but had no idea how to use one.
"On the Saturday night I decided to practise with it so I got one potato and gave it a go. It was a complete disaster. I ended up slicing the top of my thumb off. God, it was painful."
McPartlin, who along with Dec recently took home the Best Entertainment presenter prize at the National Television Awards for the 13th year, was rushed to hospital were medics were able to save the rest of his thumb.
"I was hoping they'd just be able to sew the tip back in and I'd be fine."
He was still able to pull off an impressive Sunday roast for his wife his wife Lisa, 37, his sidekick Dec Donnelly, 38, and Dec's girlfriend Ali Astall, 34.
"I still got the meal on the table," he told the newspaper. "I sank quite a bit of wine that night watching the Baftas, let me tell you."
© Copyright IBTimes 2023. All rights reserved.