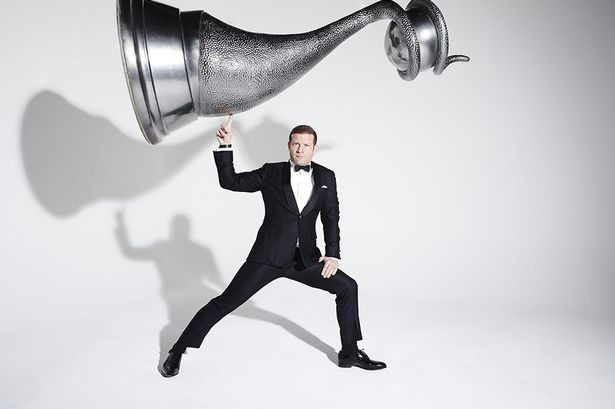 9.59 So that's a wrap. All in all a night of surprises, bad gags and Keith Lemon's silver suit. Thanks for joining IBTimes UK this evening, and see you again next year!
9.57 So the last award of the night goes to Strictly Comes Dancing. Simon Cowell going home empty-handed once again. Expect to see Mr Nasty wearing his trousers a lot lower now as a act of rebellion.
9.56 Naomi Campbell tripping over her words instead of her heels tonight.
9.54 Our bets are on Strictly for Best Talent Show.
9.51 One more award to go. You guys still with us?
9.42 We see tears and hugs. This could honestly be the only speech that we wish could go on forever. Is that the first selfie to be taken during an award acceptance speech? It could well be.
9.42 The clips from Byker Grove made us feel old.
9.38 This video montage proves just how awesome Ant and Dec are. We like them even more now!
9.37 Are we the only ones secretly hoping that Ant and Dec's mums are BFF's in real life too.
9.32 Phillip Schofield is really struggling with this essay isn't he. Bring on the Landmark award.
9.27 Eastenders cast don't actually seem too bothered.Maybe Mo and Fat Elvis gave them the results in advance.
9.26 So there you have it. Corrie is the better soap. Better luck next year Walford. The whole cast and crew take to the stage.
9.22 Time for the big one: Serial Drama. Can Coronation Street keep its crown or will Eastenders surprise EVERYBODY?
9.21 And the crowd goes wild!
9.18 X Factor winner Sam Bailey is singing her heart/lungs out. What a powerhouse.
9.14 Doctor Who takes Best Drama! We honesty couldn't have called that one. Was that a mortified Olivia Colman we just saw?
9.05 They are our bestfriends in our head.
9.03 They have only gone and done it. Ant and Dec are just better than everybody aren't they? We love how their speech feels like the first time.
9.02 Can the presenter award salvage the night?
8.55 Len Goodman is crying inside..
8.55 We are back from yet another ad break and being treated to a dodgy dance routine. Somebody call Strictly!
8.52 And we were right! Sherlock - live from LA! He's even get dressed up.
8:50 Its the brand new TV Detective category next. Bebedict Cumberbatch seems to have this one in the bag.
8.48 Surely we are not the only ones that refer to them as their character's names.
8.46 Julie Hesmondhalgh (Hayley for Corrie) wins.Well deserved. Aww she took David Neilson on stage with her!.
8.42 You could have heard a pin drop when Nick Grimshaw told his not-so-funny Sinitta joke. Its a good thing the Soap star award is up next.
8.36 Brendan O'Carroll is accepting his award all suited and booted. And yes, he did leave the dress and wig at home.
8.35 Yep Mrs Brown's Boys gets it. This is way too depressingly. Its time for a boycott.
8.31 On a more funnier note here comes Mr Big aka Chris Noth. Yeah, that guy off Sex And The City, to present best comedy.
8.30 What did you think of his performance? A career on broadway maybe?
8.29 No award show would be complete without Keith Lemon taking selfies.
8.27 Former Eastenders hardman Nigel Harman doing an X Factor, Britain's Got Talent extravaganza. This feels more camp that Simon Cowell's trousers.
8.19 Can Ant and Dec make it thirteen in a row for the best entertainment presenter prize? Either way it seems they have already started celebrating.
8.17 It's between Pointless, The Chase, This Morning and The Jeremy Kyle Show.
8.16 Now it's the Daytime category. Michelle Keegan is doing the honors.
8.14 And Matt Smith (Doctor Who) has scooped it. Worthy yet predictable. He couldn't make it so Jenna Coleman and The Moff collect it for him.
8.11 Here comes The Musketeers to present the Drama Performance award. They seem so happy to be here- not!
8.09 Is it us or was that ad break super quick? Anywho we are back with more winners and grumpy losers.
8.06 And Khali walks away with the gold! His 'unplanned speech' was short and sweet. We are starting to like him even more.
8.05 So best newcomer is up next. We are rooting for Khali Best Aka Dexter from Eastenders. What about you?
7.59 It's gone to Spy In the Huddle.
7.54 He is here to present the best documentary series by the way. Not that you could tell with his antics.
7.52 And we're back. And this is the moment we have waited for all our lives. Hugh Bonneville walking onstage to Shaggy's Boombastic.
7.50 Ad break. Just enough time for you to stick the kettle on.
7.45 Surprise surprise it's gone to I'm A Celebrity... Is it us or does Joey Essex look confused?
7.41 Tom Daley about to present the award for best entertainment progamme. Considering he isn't up for anything tonight, it was great for him to turn up.
7.36 And the award for best Factual goes to Paul O'Grady For The Love Of Dogs.
7.31 Nothing better that a duet with Michael Bolton and Sam Bailey to kick off proceedings. Lets not forget the group of school kids added for extra cuteness.
7.30 Evening guys! Are you all as excited as we are. Just a few seconds to go. We are fresh from rubbing shoulders with lots of celebs on the red carpet. What acts are you rooting for tonight?
It may not be the Oscars but after the excitement of the Golden Globes we can't resist a good awards show. The National Television Awards are finally here!
IBTimes UK's live blog will ensure you don't miss any long-winded, over emotional speeches, sore losers, or seasonally inappropriate frocks just begging for a wardrobe malfunction.