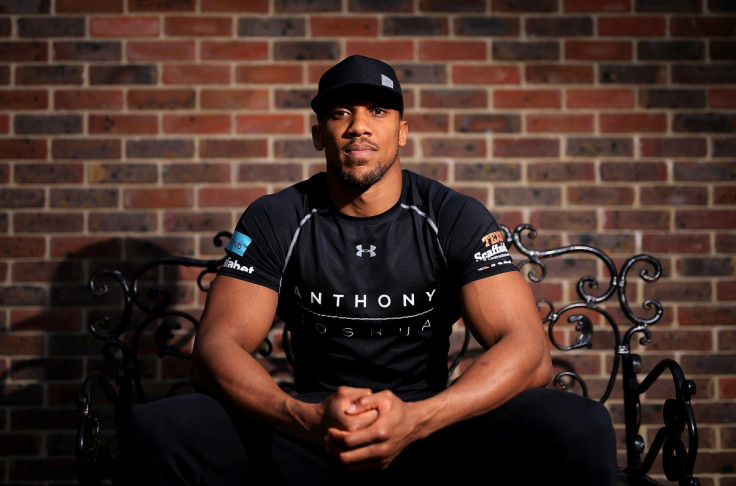 Anthony Joshua has kept to the "same old routine" as he prepares for the first defence of his IBF world title, against Dominic Breazeale.
It took Joshua just two rounds to knock out Charles Martin at the O2 Arena on 10 April and win his first world title in just his 16th professional fight.
No sooner had the American hit the mat was promoter Eddie Hearn talking up his next opponent, initially suggesting his first title defence could take place on 9 July – the same night of the world heavyweight title rematch between Tyson Fury and Wladimir Klitschko.
Joshua's camp eventually settled on 30-year-old Breazale on 25 June, with the London-born fighter defending his belt just seven weeks on from lifting it for the first time.
"I can switch on and switch off, it is hard" Joshua told IBTimes UK when asked how he coped going straight back into training camp after such a huge win. "I always seem to in camp. But I think I live a better life when I'm training anyway. There is nothing wrong it, I rest well, I sleep, I eat good, I see my family, there is no problem.
"It's the same old routine with me. It's a good title to have, but just because I am the champion doesn't give me an extra arm, it doesn't change the scoring system. It's the same objective. I've got to put that belt on the line and focus on what I'm doing."
Like Joshua, Breazeale is undefeated as a professional, having also fought at the 2012 London Olympics.
"Boxing is a tough sport. Every fight can be a loss," Joshua added at the press conference. "That's why I never let the success get to my head.
"Me and Dominic are very equal, 16 fights [Joshua], 17 fights [Breazeale], both turned professional around the same time. We've been in the game around the same time. He's my fourth undefeated fighter; it's a great opportunity for him to announce himself in the UK."
Joshua added: "I take training camp very seriously, I know every day, every hour what I've got to do. Seven weeks and I'll be ready."
It was also announced that Joshua had signed a multi-fight with deal with Showtime, with his fights now to be shown exclusively through the American broadcaster stateside.