Anthony Joshua has once again expressed his desire to meet Tyson Fury in the ring and believes a bout between the two Brits is edging ever closer.
The Watford-born boxer's name was sent into the stratosphere on Saturday night (29 April) after his extraordinary knockout victory against Wladimir Klitschko at Wembley, and he has now set his sights on a bout with the Gypsy King, who has also defeated the Ukrainian.
Joshua called out Fury in the ring at Wembley and has been involved in a spat with the controversial heavyweight on social media in recent weeks.
The 2012 Olympic gold medalist has not risen to Fury's taunts and photoshopped images and is purely focused on providing the boxing world with another colossal heavyweight battle.
"I do [think that is the fight the British public wants to see] and that's why I mentioned it because it's not as if I'm calling out someone random or drawing attention to someone random," Joshua told Sky Sports. "I have heard and seen people talking and it seems like it is heading in that direction.
"I just like to entertain and if that's a fight that will bring entertainment to the sport again, I would love to be involved in another dust-up but this time it would be two Brits coming together."
A fight with Fury may be what Joshua wants the most, but he may have to get into the ring with the man he knocked down on Saturday first.
Klitschko could well exercise his option for a rematch with the 27-year-old, with promoter Eddie Hearn in 'no rush' to arrange his poster boy's next fight.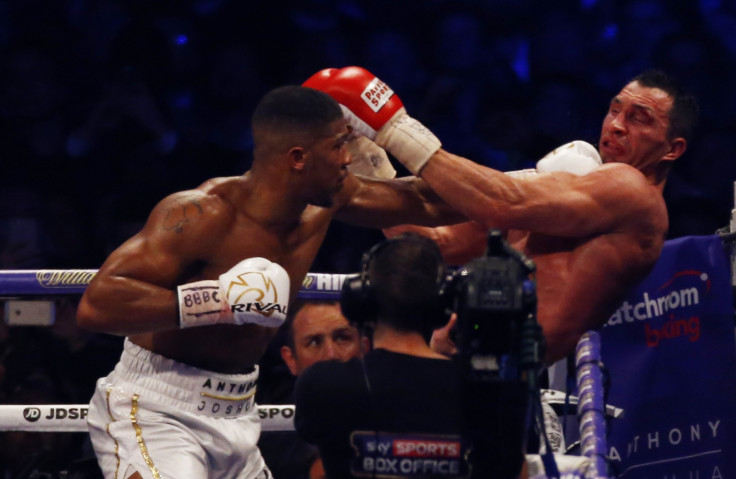 "That was probably one of Klitschko's best performances of late," Hearn told The Express. "He will probably say he wants the rematch as any champion would. Whether he feels the same in a month's time after reflection… we have no rush at all.
"We're certainly not going to be opening negotiations with any other fighter until we know what Wladimir Klitschko is going to do. He came here, so we may go to Germany. I always said if no one wants to see a rematch, it's unlikely to happen. If people want to see a rematch, it's likely to happen."