Anthony Vaccarello has been confirmed as the new creative director of Saint Laurent, having announced his will be stepping down from his position as creative director of Versace's secondary line, Versus.
Many have been waiting for this news following on from Hedi Slimane's departure from Saint Laurent on April 1. There has been a buzz around Vaccarello heading to Saint Laurent for some time now and the quick turnaround of events in the past four days gave way for speculation that has been confirmed by the French brand's parent company, Kering.
In a statement published by the Business of Fashion, Francesca Belletini, president and chief executive officer of Yves Saint Laurent, said "I am extremely happy to have Anthony Vaccarello take the creative helm of Yves Saint Laurent." She continued to say "His modern, pure aesthetic is the perfect fit for the maison. Anthony Vaccarello impeccably balances elements of provocative femininity and sharp masculinity in his silhouettes. He is the natural choice to express the essence of Yves Saint Laurent. I am enthusiastic about embarking on a new era with Anthony Vaccarello, and together bringing the maison further success."
Having announced on Monday (4 April) that he would be leaving his role as creative director of Versus, Donatella Versace spoke of his departure in a statement saying "While I am sad to see him leave the Versace family, I wish Anthony Vaccarello tremendous success with his next chapter."
François-Henri Pinault, chairman and CEO of Kering, also spoke of the news, adding: "I am very proud to welcome such a vivid and young force among today's creative fashion talents to Yves Saint Laurent. Anthony Vaccarello's unique style will greatly express the maison's creative signature and fashion authority, building on the brand's solid foundations, and further developing it to realise its full potential. Together with the entire Yves Saint Laurent team, Anthony Vaccarello will strongly contribute to the maison's growing accomplishments."
The 36-year-old Belgian-born designer worked as creative director for Versus for the past three years with great success, following in the footsteps of Christopher Kane and JW Anderson who also held the position at the Versace secondary line before moving up within the fashion establishment. Donatella also recognised the role of the brand saying "I'm proud that Versus can be such a remarkable global platform for emerging design talent."

Whilst many were saddened to see Hedi Slimane step down from his role at Saint Laurent, there is no doubt that Vaccarello's style sits very closely alongside that of Slimane, both possessing a look that balances overt sex appeal and impeccably cut designs, talents both honed by the late Yves Saint Laurent himself.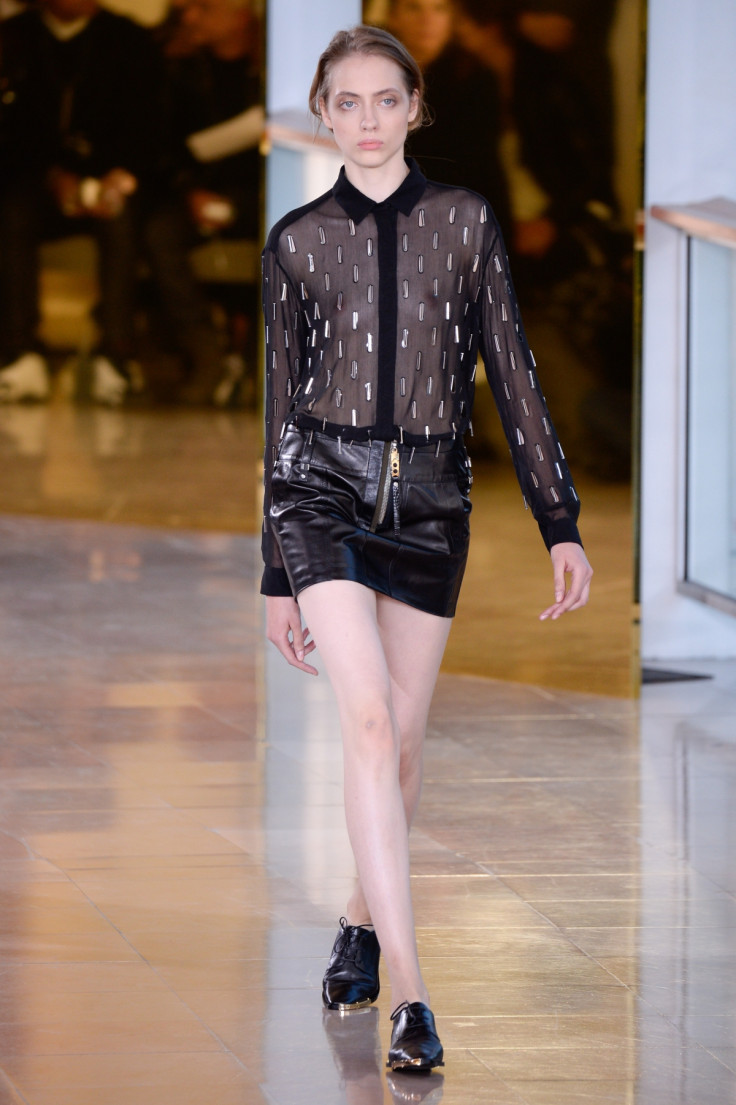 Lace details, slashed leather and metalwork woven into designs that possess both the nonchalence of youth with the confidence of a grown women are the trademarks of Vaccarello's pieces. Whilst there are many cross overs between this and the work by Slimane at Saint Laurent, Vaccarello will still have to work hard to succeed at making every piece look as simple as his predecessor did, or indeed the creator of the brand.
Speaking today, Vaccarello said "Mr Saint Laurent is a legendary figure for his creativity, style and audacity, I am extremely grateful for the opportunity to contribute to the history of this extraordinary house."
Having left Versus, Vaccarello will move directly to Saint Laurent and his first collection for the brand will be shown at the Spring/Summer 2017 shows in October, during Paris Fashion Week. Before then, there will no doubt be speculation as to how the relatively quiet man on the fashion scene will be able to sit on the shoulders of the giant that is Hedi Slimane who brought a new notoriety to the brand as well as cold hard cash. As the Business of Fashion noted, according to Sanford C. Bernstein, Saint Laurent revenues grew more than 20% each year from 2012 to 2014. One hopes that the new creative director will be able to take this success and build upon the profits, it is certainly preferable to having to save a sinking brand but perhaps just as daunting.