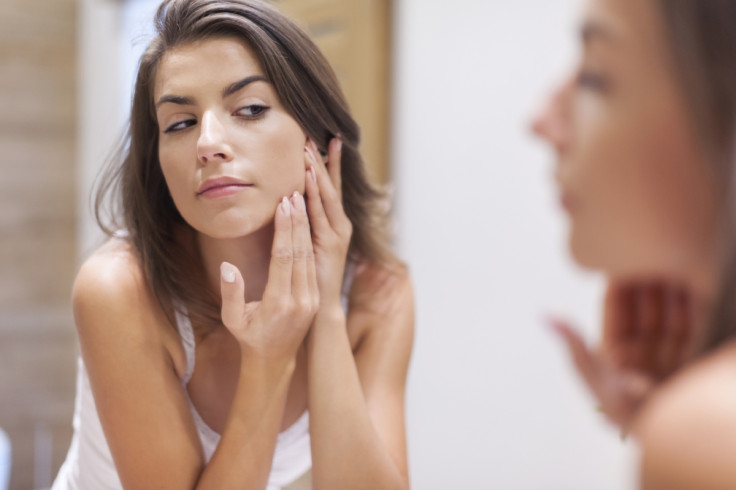 Acne is something that is starting to plague more and more adults but what causes it and how can it be treated in adult skin? I sat down with world-renowned consultant dermatologist Dr Nick Lowe, who is passionate about treating acne, and asked questions on how to prevent breakouts and how to deal with scaring afterwards. Based at Cranley Clinic in central London, with over 35 years experience and a black book of celebrity fans, he is definitely the man to go to with all acne related issues.
What causes acne?
This itself is a complex question, but Dr Lowe tells me that adult acne is relatively new thing " there has been a trend in the last decade" he said " that women are facing acne in their 20s, 30s, 40s and even 50s. The research also tells us that the age of the onset of acne is getting older, not only for first time sufferers, but also where there is relapse later in life. In fact, a staggering 25% of acne now occurs in adult life (beyond 20 years and older) and a third of women in their 30s are still getting acne". Dr Lowe is seeing more and more cases in his clinic and, although there are a few theories around this, Lowe is able to tell us some of the real facts behind this.
Hormones
Firstly, most adult acne is hormonal and where in young skin it is caused by overproduction of sebum clogging your pores – in adult skin the causes are far more varied. Many things can trigger a hormonal reaction including periodic use of oral contraceptives, Polycystic ovarian syndrome (PCOS), pregnancy 'pre and post natal' as well as breast feeding, stress and menopause to name a few.
Dairy
Many research papers show strong evidence that dairy products can cause acne, due to the hormones in milk. Evidence also suggests that the hormones related to insulin production can cause acne and that those with poor quality diets in general who eat food high on the GI scale (Glycemic index) that is full of refined carbohydrates (white flour, sweets, chocolate) can be prone to acne. These reasons are of course just the tip of the iceberg and diagnosing the cause of acne is complex and individual. With the constant fluctuation in hormones in life, its no wonder that it can feel like a never ending battle.
How can it be treated?
To start with, don't layer on make up. Used as a 'safety blanket' but not always kind to your skin, Dr Lowe explains that a lot of the ingredients in make up can cause acne as they can be comedogenic, meaning they block the opening of the oil glands and can cause black heads, white heads and inflamed acne (you can check the ingredients' lists here). However, even products that are not comedogenic will have the same effect if you build up using multiple layers. "The best options when it comes to make up and acne is to keep your foundation light with formulas that are non comedogenic and use mineral based powdered make up". You can also use an anti-blemish serum first, let it dry and then apply your make up over the top.
Gentle cleansing
Like many dermatologists I've spoken with, Dr Lowe believes in gentle cleansing – steering clear of tools that scrub aggressively at the skin. "Over cleansing, especially for those with sensitive skin types, will exacerbate the problem". Keep cleansing simple, use a micellar water on a cotton wool pad to remove your make up and then wash with a lotion based cleanser, this will help to reduce the damage.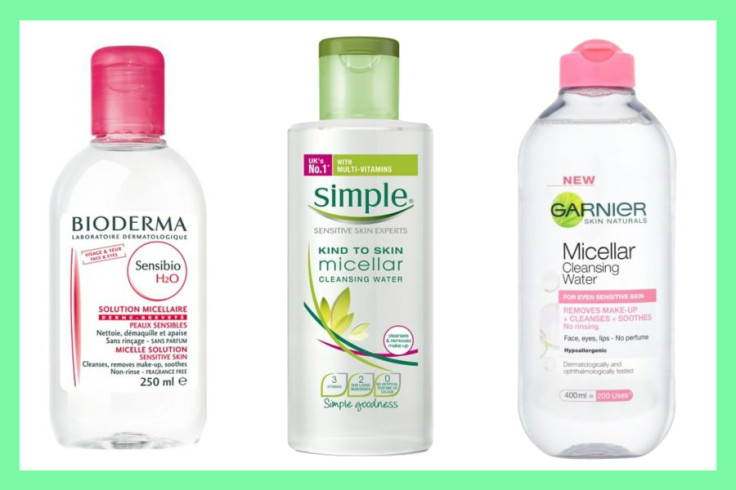 Bioderma - Sensibio H2O 250ml; £10.50, Boots
Simple - Kind To Skin Micellar Cleansing Water 200ml; £2.24, Boots

Garnier - Micellar Cleansing Water 400ml; £4.99, Boots
The biggest mistake people make when trying to solve their acne issues at home is layering on too may products. Dr Lowe says "there is a great trend in the cosmetics industry now to layer on toner, serums, oils, creams but these are just a way for the industry to sell you more products. Keep it simple. In the morning you need two products, your anti-blemish product and your protective day cream in the form of a broad spectrum (UVA and UVB) sunscreen under your make up". Nivea's anti-age face cream (£6.50) is ideal for daily use.
No heavy night creams
This way, in the evening you don't need night creams and heavy moisturisers, just cleanse and use your anti-blemish products, and if needed your anti-blemish serum. Lowe advises that by using multi layers of products in your skincare routine you are exposing your skin to many different ingredients increasing your risk of allergies, breakouts, irritation and drying.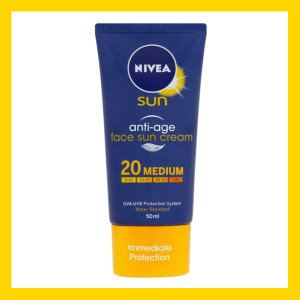 When it comes to scarring there is a lot you can do depending on the type you have. Treatments could be anything from lasers, fillers, radio frequency or injections that help reduce the look of scars left by acne but its important to understand that, although these will help, you may not get rid of these scars completely. "Treating acne early can often reduce or prevent scaring altogether".
It's vital that you wear a good SPF all year round, (especially to those with olive and deep skin tones) making sure it has a good UVA protection. Do apply religiously, every day, as these are the rays that penetrate the skin deeply and cause the skin to darken and age.
Targeted peels, lasers and prescription retinoids also help with scarring in all skin tones, especially those with olive and deeper skin tones but patience is the key.
Being too aggressive or doing too much at once will cause these dark marks to get worse, or you may even start seeing reddening from the product. When considering treatment, visit a trusted dermatologist or physician and remember, once things start to improve you must see it through to maintain its improvement.
The Dr Lowe Skincare Range
Dr Nick Lowe has a new range of blemish fighting skincare to add to his line, and its an improvement on his previous range – its simple and more powerful, and importantly is suitable for all skin types. It has ingredients like salicylic acid, niacinamide, allantoin, and vitamins A, C & E antioxidants, and gives a wider efficacy across patients.
Lowe put together seven ingredients that have been independently lab tested and patented, that kill all of the known acne bacterias. By killing off the bacteria, these ingredients then work on correcting redness, removing black and whiteheads and reducing the skin-surface oil. Two of the ingredients can even help clear abnormal marks cased by acne making it safe for olive and deep skin tones too.
He then adjusted the concentration of the formula, so it would be comfortable on even the most sensitive of skins, and is safe to use in pregnancy. This is what is called the Acclenz complex. A powerful, over the counter solution for blemish and acne prone skin, the range has a Purify and Renew Foaming Cleanser, an Oil Control Day Cream and a Deep Action Blemish Serum. If you have active breakouts there is also an Advance Action Spot Gel for an on-the-go solution, that can be used 3 to 4 times a day over make up which helps to reduce and clear breakouts rapidly.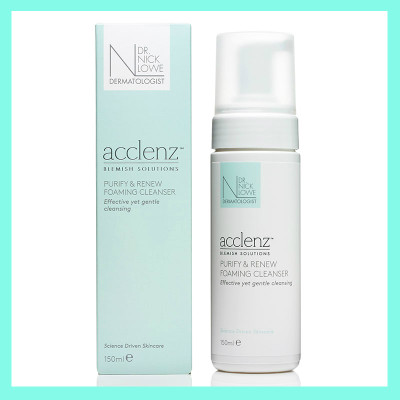 Included in the range is a environmentally friendly Pore Refining Skin Polish and a Deep Down Clearing Mask that can be used twice a week along side the rest of the range. Dr Lowe stresses that "anyone with serious acne should see their GP, skin specialist physician or dermatologist to discuss their issues, as they may need a prescription medication", but the great thing about this range is that it can be used alongside prescription medicine.
Lowe sees educating people about their skin as very important issue and along with his daughter Dr Phillippa Lowe, has released a book called Perfectly Clear – the guide to clear skin that has detailed advice on how to achieve clear healthy skin.
For more on Dr Nick Lowe http://www.drnicklowe.com