More than 1,000 people gathered in the centre of Manchester today to protest about the exploration of shale gas reserves, and UK government plans to ramp up the practice of fracking.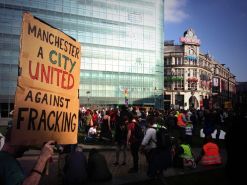 About 1,200 demonstrators opposed to the controversial gas extraction method gathered in Piccadilly Gardens in the city centre at midday before marching to Cathedral Gardens, in what is believed to be the biggest protest against fracking in the UK so far.
Fracking, or hydraulic fracturing, is the process of extracting natural gas from shale rock layers deep within the Earth by fracturing the rock. But fracking opponents say not enough is known about the potential impact on the environment, and claim the process may increase the risk of earthquakes, contaminate groundwater supplies or affect wildlife.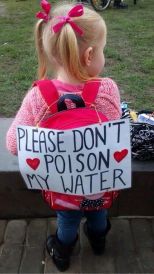 Speakers from the protest camp at Barton Moss, where energy firm IGas is carrying out test drilling to explore potential shale gas reserves beneath the green belt site in Irlam, Salford, spoke at the rally.
Campaign groups and unions including Friends of the Earth, the Green Party, Manchester People's Assembly and the Campaign Against Climate Change also took part in the demonstration.
Martin Porter, a spokesman for the Barton Moss camp and a member of Frack Free Greater Manchester, said: "The purpose of the day is to send a message out that we don't want fracking in Manchester or anywhere else.
"At the moment, Barton Moss is at the centre of attention across the country but before long two-thirds of people in England and Wales might find a fracking rig on their doorstep."