Indian forces fired warning shots and used tear gas in an attempt to control clashes between thousands of people protesting against the killing of a 12-year-old boy in Kashmir. Police and paramilitary soldiers implemented a curfew in Srinagar after the death of Junaid Ahmad.
Protesters yelled "Go India, go back" and "We want freedom", as they marched to the so-called "Martyr's Graveyard" with the boy's body held aloft. According to reports tear gas shells landed near mourners carrying the body, which was draped in the Pakistani flag and adorned with pro-freedom slogans.
The boy, it has been claimed, was critically injured on Friday (7 October) after being struck by shotgun pellets. He died at a hospital, in the main city of the Indian-administered Kashmir, overnight.
Al Jazeera says it spoke to a doctor at the Sheri Kashmir Institute of Medical Sciences, who said the boy suffered a head injury in addition to pellet wounds. The news corporation added that the incident took place outside his home and police said that he was part of anti-India protests that took place on Friday.
Following the protests on Saturday a police officer told AFP news agency that they were implementing a curfew in the city. "We are taking all possible measures so that the protests don't spread to other areas," the report read.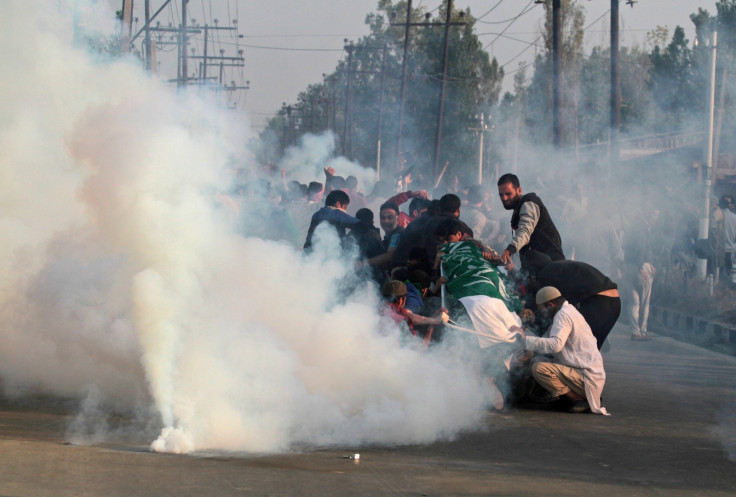 Indian police say the boy was part of protests on Friday that left over 50 people injured in the disputed region. Tension has increased since 22-year-old Burhan Wani, a commander with the terror outfit Hizbul Mujahideen, was gunned down in Tral in southern Kashmir in July, by Indian soldiers.
The situation escalated after four suspected Pakistan-based militants infiltrated an Indian army base in Uri on 18 September killing 18 Indian soldiers.
Estimates say that 90 civilians have been killed and thousands injured in the ongoing clashes, with hundreds of protesters blinded and maimed in the ensuing violence. Life has remained stagnant in Kashmir after the sweeping military crackdown.
Police have also said that rebels killed a police officer and injured three others in the southern Shopian district. The region is split between Pakistan, India and China with Pakistani rebels fighting Indian troops since 1989 for either independence or a merger with Pakistan. It is estimated that more than 70,000 people have been killed in the last 27 years.