Ukip's general election launch had a chaotic start after being disrupted by activists from Stand Up to Racism.
Leader Paul Nuttall was preparing to deliver his campaign speech to the media at London's Marriott Hotel in Westminster on Friday (28 April) when a handful of activists burst in.
One demonstrator said the action was due to the party's recently announced policy of banning Muslim women from wearing the burqa in public places.
He told IBTimes UK: "They try and use racism as a means of winning votes, I think that's reprehensible and should be checked."
The disruption meant many journalists were blocked from entering the event as security staff attempted to eject the activists. The police were also called.
As some of the group were led away by security, another altercation inside the hotel reportedly saw a Muslim woman attack Ukip's burqa ban policy.
"They are racist and they do target Muslim women and how dare they tell Muslim women what to wear when they have no right to?" she told The Mirror while being led away by security.
"How dare white men tell Muslim women what to wear constantly and threaten us?"
Activists were also seen outside the Marriott Hotel holding a large banner that read, "No to Islamophobia".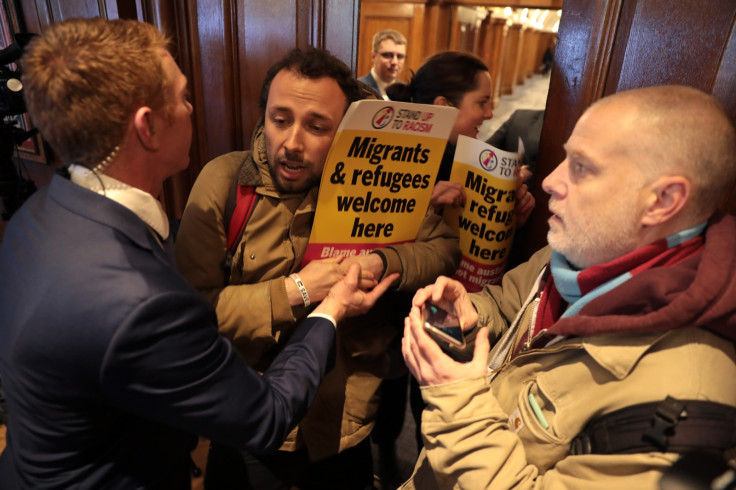 One demonstrator said he would continue to stage protests at future Ukip events, accusing the party of trying to "whip up racism against Muslims in order to win votes".
Ukip's campaign launch got underway after a short delay.