A hotel in Switzerland has been accused of anti-Semitism after its management staff demanded that Jewish guests shower before and after swimming.
Jews staying at the Aparthaus Paradies Hotel in Arosa, Switzerland, were horrified to find anti-Semitic signs warning them of specific rules for Jewish guests.
One sign in the pool area read: "To our Jewish guests, please take a shower before you go swimming and also after swimming. If you break the rules, I'm forced to close the swimming pool for you."
Another notice said that Jewish guests were only permitted to use the fridge in the hotel's living room between the hours of 11am and 5.30pm.
"I hope you understand that our team does not like to be disturbed every time," the sign read.
A Jewish family from Israel told broadcaster Channel 2 that they had "never been exposed to such anti-Semitism."
"We were in shock," a man who was staying with his wife and baby at the hotel said. "No one approached the manager because we did not want to start a confrontation, but the next day the other sign suddenly appeared at the pool, and that was very frightening."
He said that there were several other Jewish families staying at the hotel, mainly from the US, UK and Belgium.
"It was very strange," he said. "Even the non-Jews did not understand - there is a very nice group of Jews here from all over the world - there are hardly any Israelis here [so it is not anti-Zionism] and everyone behaves in a very respectful way."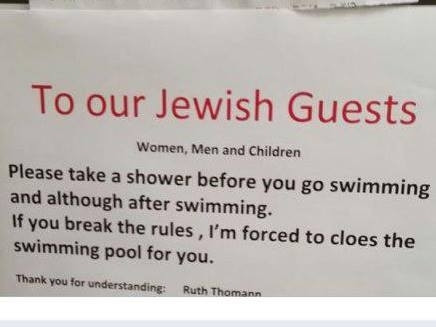 Hotel manager Ruth Thomann took the signs down after receiving many complaints.
"I have nothing against Jews, whom we regularly receive warmly here," she told the Jewish Telegraph Agency.
The sign on the fridge was only addressed to Jewish people because other guests were not allowed to use it, Thomann said. "We wanted our Jewish guests to access the food only at set times because otherwise it was an impossible situation," she explained.
She added that while the hotel wanted to make Jewish guests feel at home, "the behaviour of some guests had made others feel uncomfortable."
"We need to be responsible for all our guests and find a balance," she said.
Thomann acknowledged that she "may have selected the wrong words", adding "the signs should have been addressed to all the guests instead of Jewish ones."