Antonio Conte believes that the Chelsea teamwork has been the key behind the Blues' impressive season after recalling what he said to the dressing room following the early disappointing defeats to Liverpool and Arsenal.
Chelsea won the first three Premier League games of the campaign under the Italian boss but his methods came under some scrutiny in September when his side suffered three consecutive setbacks, being held to a draw at Swansea before the defeats to Liverpool and Arsenal.
Conte decided to make a drastic change in his formation following the 3-0 loss at the Emirates Stadium, switching to his favoured 3-4-3 system after having started the season with four on the back.
The decision quickly paid off as Chelsea have since gone on a run of 16 victories from 18 league games to become the clear favourite to clinch the Premier League title, being currently nine points ahead of second-place Tottenham and 10 over Manchester City in the table with 14 games to go.
However, the Italian boss revealed that a talk in the dressing room following the defeat to Arsenal also inspired that turn around.
"We had a moment when I told the players and underlined the negative situation. After the Liverpool and Arsenal defeats, I said very clearly that we must show we are a great team on the pitch, not only because Chelsea is a great team, but you must show in every game, during the game, that you are a great team, not only because your name is Chelsea," Conte explained after the latest 3-1 victory over Arsenal put the Blues a step closer to the Premier League title.
"After the two defeats a lot of things changed and now I can talk only of positive things and I hope this continues because it means that we are doing something important this season."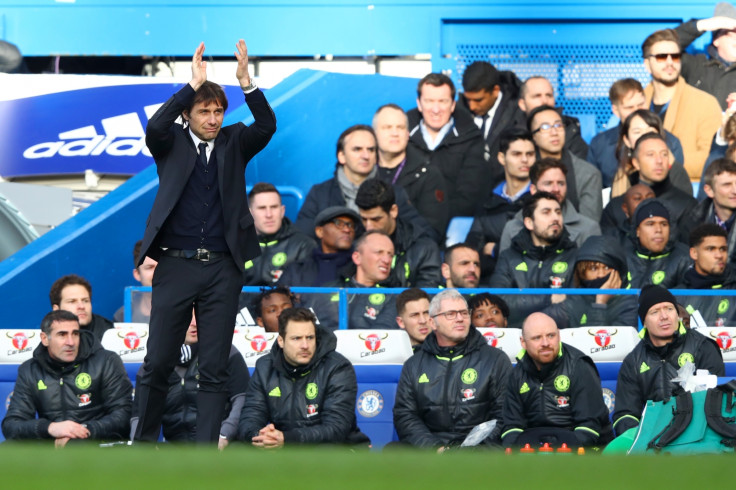 The likes of Eden Hazard and Diego Costa have rediscovered their best form during the recent good run but the Italian boss points out that it is the teamwork that has put Chelsea on course to win the Premier League title.
"To win the title you need good players with good talent, but also to be a team. You have to be able to put this talent into the team, to create a good organisation, to create a team where every single player knows his position, knows his situation with and without the ball – I think that's important," Conte said. "Also to create a family spirit between us. I'm pleased for this because in these six months, we are building something important in this club."