Apple has updated the entire iLife suite for iPad, after announcing 'the new iPad' tablet at a media event in San Francisco on Wednesday, bringing a range of new features to take advantage of the Retina display and quad-core graphics.
The company also updates the iWork suite - including Numbers, Pages and Keynote - and brought iPhoto to the iPad for the first time, featuring smart browsing, multitouch editing, professional-quality effects and more.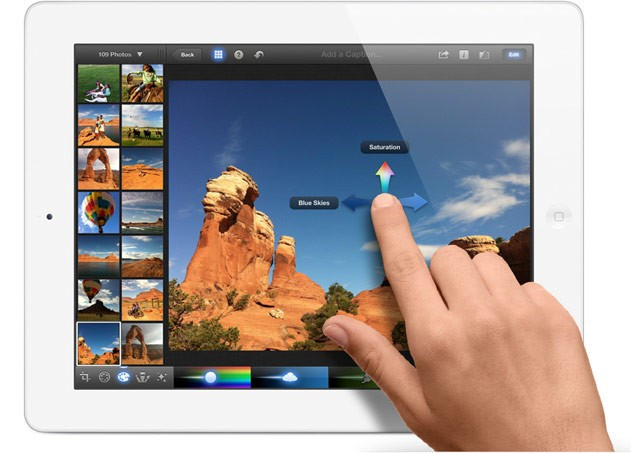 Apple's Randy Ubilos took the gathering of journalists and Apple employees through iPhoto, which appears on iOS devices today for the first time. For any Mac users, the iPhoto expeiance on iPad will be very familiar, with images stored in folders under 'Albums', 'Photos', 'Events', and 'Journals'.
iPhoto takes advantage of the new iPad's quad-core graphics and upgraded A5X processor, offering a wide range of photo editing options. The app can deal with huge photos of up to 19-megapixels in size.
Apple said: "You can enhance pictures by adding beautiful Apple-designed effects with just a tap, or apply adjustments exactly where you want them with fingertip brushes. In addition to posting photos to Facebook, Flickr and Twitter, you can beam photos between your iPhone and iPad; stream photos and slideshows to your Apple TV with AirPlay; and use iCloud to publish photo journals to the web and share your stories with friends and family in a whole new way."
The app has been completely designed for iOS to take full advantage of the Retina display and multitouch gestures on the iPad and iPhone.
"With the introduction of iPhoto, we've brought the entire suite of iLife apps to iOS and users are going to love it," said Philip Schiller, Apple's senior vice president of Worldwide Marketing. "Whether brushing an effect onto a photo, shooting a movie trailer or jamming with friends to record a song, iPhoto, iMovie and GarageBand let you make amazing creations on iPad and iPhone."
Once images are editing, there is a wide range of sharing options within the app, including itunes, email, Twitter, Beam, facebook and Flickr. Images can also be uploaded to the user's Camera Roll and backed up to iCloud.
Edits can be made to specific areas of photos and not just to the entire image - something even the desktop version of iPhoto did not do until recently - and there is a whole range of tools available. These include; red eye remover, saturate, desaturate, lighten, darken, sharpen and soften.
All changes made are non-destructive, so the original image is always preserved if an edit doesn't go how you would have liked.
iPhoto for iPad is available to download from the AppStore today costing £4.99.
Read all the details of the new iPad here.