Apple customers have downloaded more than 50 billion applications from the iPhone-maker's App Store, equalling some 800 apps per second.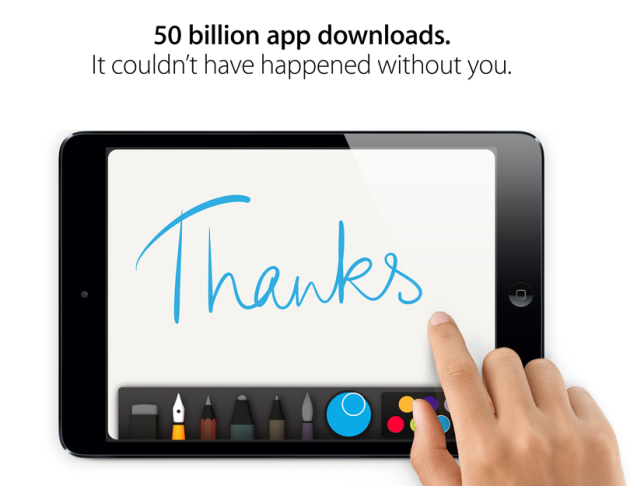 The 50 billionth app to be downloaded was Say the Same Thing by developer Space Inch LLC, which was downloaded by Brandon Ashmore from Mentor, Ohio, who will received a $10,000 (£6,500) App Store gift card as a thank you from Apple.
The first 50 people who downloaded an app after the 50 billion milestone was reached will each receive a $500 gift card.
"Apple would like to thank our incredible customers and developers for topping 50 billion apps downloaded," said Eddy Cue, Apple's senior vice president of Internet Software and Services. "The App Store completely transformed how people use their mobile devices and created a thriving app ecosystem that has paid out over nine billion dollars to developers. We're absolutely floored to cross this milestone in less than five years."
The company's last major app milestone came in march 2013 when it hit the 25 billion mark and gave a $10,000 gift card to Chinese user Fu Chunli. Before that, it took Apple nine months to reach its first million downloads, and a further three years to reach 25 billion.
Google announced at its I/O conference this week that it had seen 48 billion app downloads from its Play Store, meanwhile the much younger Windows Phone platform passed its first billion in February.
Apple opened its App Store for iOS in July, 2008 with just 500 apps and since its introduction it has encouraged bedroom developers and multinational game publishers alike to create apps for the iPhone, iPad, iPod touch and more recently the Mac operating system.
The App Store now offers more than 850,000 apps for iOS devices - 350,000 of which have been developed specifically for the iPad - and is available to customers in 155 countries; apps are split up into 23 categories ranging from newspapers and magazines to games, business applications, health and fitness, education and travel.
Apple said the 50 billion figures is for unique downloads and does not include the re-downloading of alls or the downloading of updates.