Apple Stops Censoring Word 'Jailbreak' Among iTunes Store Content
Following reports that Apple was censoring the word "jailbreak" from the iTunes Store on Thursday, it now appears as if the Cupertino-based company has reversed its decision.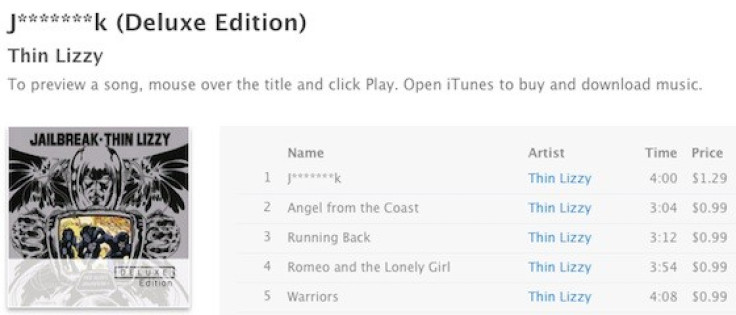 According to a report from Shoutpedia, quoting an iOS hacker called Planetbeing, it suggested that Apple had started randomly censoring occurrences of "jailbreak" to "j*******k" in the US iTunes Store for apps, songs, albums, podcasts and iTunes U episodes.
A later report, from MacRumours, said the random censorship even affected a song and album (with that name) by rock group Thin Lizzy, as well as an episode of The Roy Rogers Show from the early 1950s.

However Apple now seems to have restored the iTunes Store content search option to include the full spelling of "jailbreak" and to allow the word to appear for searches pertaining to songs, apps and album/music titles, as before. As od the afternoon of 18 May, the issue has been addressed and the change applies to both music and apps, reports Apple Insider.
The word was earlier reportedly censored from other artists' song titles such as the Gossip - for their album That's Not What I Heard - and Sonic Syndicate's song from the album Eden Fire. In addition, Apple's censoring of the word extended to officially approved software for iOS devices, such as a two-dimensional platform shooter game where players must escape from a prison; this is now listed on iTunes store as "J*******k".
Outside the music and gaming world, jailbreaking refers to the process of hacking the iOS software to enable installation of custom software and tweaks without Apple's permission. Performing such a jailbreak on an iPhone, iPad or iPad Touch voids Apple's warranty for the devices as it modifies the normal functionality of the device and exposes security loopholes in the software.
Over time, jailbreakers have established a niche of their own and have created custom apps and tweaks for an exclusive storefront known as Cydia, which mirrors Apple's official App Store for the iOS. With a multitude of free and paid apps on offer, Cydia offers unparalleled resources to install custom jailbreak tweaks, user interface themes and several other software that override Apple's iOS developer agreement.
Jailbreaking by itself is not illegal. However, the process aids in stealing or pirating licensed software from the App Store, which violates the law. Apple's intentions of fighting the practice of jailbreaking emanates from its concerns to kill piracy at its roots.
© Copyright IBTimes 2023. All rights reserved.