Apple CEO Tim Cook admits the company "screwed up" with iOS 6 Maps and that its relationship with Samsung is an awkward one, but adds that television is an area of "intense interest".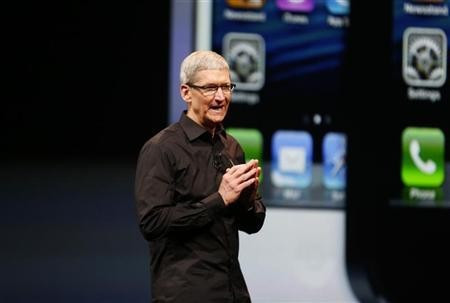 Some Mac production moving to US

Apple "screwed up" on iOS 6 Maps apps

Relationship with rival/supplier Samsung is "awkward"

Television is an area of "intense interest" for Apple
Two interviews with Cook were published on 6 December, the first an 11-page piece by Bloomberg Businessweek, and the second a video to be aired by NBC.
Speaking to Bloomberg, Cook said that in trying to offer the consumer a better mapping experience, the iOS 6 app didn't live up to the company's expectations, adding: "We screwed up."
Cook went on: "We're putting all of our energy into making it right. And we have already had several software updates. We've got a huge plan to make it even better. It will get better and better over time. But it wasn't a matter that we ... decided strategy over customers. We screwed up. That's the fact."
The Maps fiasco lead to the firing of Scott Forstall, handing the control of iOS software to Jony Ive, already Apple's head of industrial design. The changes, Cook said, were to do with collaboration among Apple employees.
"We have an enormous level of collaboration in Apple, but it's a matter of taking it to another level... You have to be an A-plus at collaboration. And so the changes that we made get us to a whole new level of collaboration."
Now responsible for the user interface of the iPhone and iPad, Ive "has the best taste of anyone in the world and the best design skills," according to the Apple boss, adding: "Jony has done a remarkable job leading our hardware design, so let's also have Jony responsible for the software and the look and feel of the software."
Competition
With regard to the competition and the range of impressive tablets that have come to market this year, Cook said that their problem is not marrying hardware, software and services into one.
Cook said: "If you think about Android, it's more like the Windows PC model. The operating system comes from company A. Company B is doing some integration work, and maybe the services come from yet somewhere else. I think we know the kind of customer experience that produces."
Competition is healthy for Apple, though, as the CEO explained that rival tablets have brought more attention to the tablet market, which leads to more people considering the purchase of a tablet. "I think that's actually good for us."
An issue Android tablets continue to have is the lack of applications optimised for their larger screens - often they are smartphone apps that are made to fit, rather than redesigned to take advantage of the extra space.
"You know, we have 275,000-plus apps that have been optimised for the tablet. If you just stretch out a smartphone app on a tablet, it's an awful experience. It's not what customers want. I think it's another reason that usage is so low on these other tablets," Cook explained.
Samsung
Samsung in particular has given Apple a headache in 2012, not just for the countless patent infringement cases, but also because the company is also one of Apple's largest suppliers, a situation that Cook describes as awkward.
"Life is a complex thing sometimes, and yes, it's awkward. It is awkward. I hate litigation. I absolutely hate it. For us, this is about values. What we would like, in a perfect world, is for everyone to invent their own stuff.
"We love competition. But we want people to have their own ideas and invent their own stuff. So after lots of trying, we felt we had no other choice. We tried every other avenue, and so we'll see what happens in the future."
The two companies are due back in court on 6 December, as Samsung seeks to have its $1bn patent infringement fine overturned, and Apple wants to see it increased by $535m.
Made in the US
Apple will be moving production of one of its existing Mac products to the US next year, according to Cook, who said that the company has invested $100m in expanding its US manufacturing operation.
The CEO said: "Next year we are going to bring some production to the US on the Mac. We've been working on this for a long time, and we were getting closer to it. It will happen in 2013. We're really proud of it."
Finally, in a separate interview with NBC's Rock Center, Cook talks about the television industry, saying that "when I go into my living room and turn on the TV, I feel like I have gone backwards in time by 20 to 30 years.
"It's an area of intense interest, I can't say more than that."
Apple has been rumoured to be developing a next-generation television for some time now, and while its Apple TV set-top box has sold well since the last redesign, the company's view that it is a "hobby" hasn't gone away.
In February this year, Cook said the company needed "something larger" to make the product a major category in its own right, but since then the company has kept quiet.