Apple's invitation to "see" and "touch" something new at a media event in San Francisco later today has caused quite a stir, and while we're pretty sure we'll be seeing a new HD retina-type display, little is known about what we'll get to touch.
The Guardian claims that "touch" refers to a new screen technology that will cause the display of the new iPad 3 to become textured or smooth depending on commands sent from applications.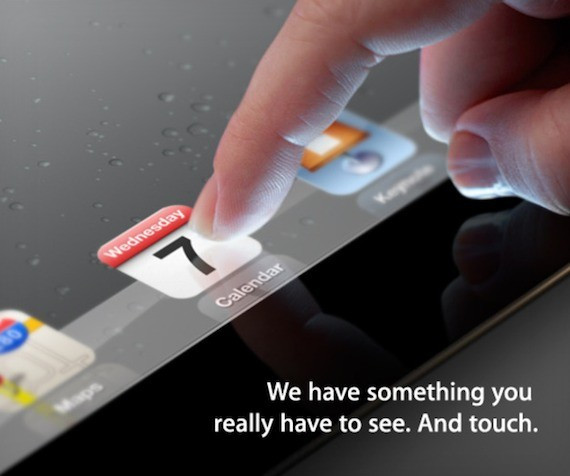 The invitation sent by Apple to the world's media read: "We have something you really have to see. And touch." While the "see" almost certainly relates to the much-reported Retina display, little is known about the "touch".
Senseg is the company behind the technology that generates an electrical field over the screen, which can be modulated to create almost any texture an application developer wants.

The company told TrustedReviews in the summer of 2011 that fellow Finnish company Nokia would not be the first manufacturer to get the screen technology, but "we are currently working with a certain tablet maker based in Cupertino" - which is a clear link to Apple, whose headquarters are based there.
The compnay uses electrostatic vibration technology to trick the fingertips into thinking they are touching something more complex than the flat glass screen. In theory, this could be the keys of a keyboard and mean that true touch-typing on a tablet is made possible.
Apple has a history of giving clues to new products in its invitations. When the iPhone 4S event was announced, Apple declared "Let's talk iPhone", which is thought to have been a clue about Siri, the voice-activated personal assistant that was debuted on the iPhone 4S.
Leading Apple analyst, Carolina Milanesi of Gartner, told the Guardian: "Saying you have to 'see' it obviously refers to the retina display. As for 'touch', my first thought was that they have done something to the back of the iPad."
The PlayStation Vita has a touch panel on the back of the device to add another dimension to game play, but it is believed that the iPad 3 will not follow suit, and instead it will feature the textured Senseg technology.
Little else is known about the new iPad - which could be called the iPad HD - but all will be revealed by Apple at the media event, which is due to start at 6pm GMT on Wednesday. International Business Times UK will be providing up-to-the-minute news from the announcement via our live blog.
In the meantime, our roundup of what to expect from today's announcement is here.