Apple is once again thought to be releasing an iPad mini to compete against the Google Nexus 7 and Amazon Kindle Fire this Christmas.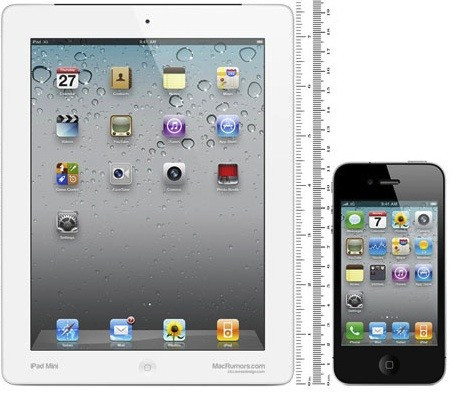 Bloomberg claims that a 7in to 8in tablet will be announced by Apple in October alongside the new iPhone and iOS 6, although the new tablet is not thought to offer a Retina display.
While not featuring a Retina screen, the iPad mini is thought to have the same 1024 x 768 resolution as the iPad 2, meaning that developers will have no trouble making their current applications fit neatly on the new tablet.
The Bloomberg report echos a research note from Pacific Crest analyst Andy Hargreaves, who claims that a 7.85in iPad mini will be released by Apple in October and be priced from $299 (£190), slightly more than the £159 Google Nexus 7 tablet, which was announced in June.
"We estimate Apple will sell 35 million iPad mini units in F2013 [financial year 2013] at $299, with 25 percent cannibalisation of the larger iPad," Pacific Crest said in the note on 28 June.
It is also believed that Apple will discontinue the iPad 2 in October and offer an 8GB iPad mini for $299 as the entry-level tablet - also, a minor upgrade to the 9.7in model is also expected, to include slightly updated screen technology, a repositioned camera and a lighter battery to reduce overall weight.
With regard to how an iPad mini will fit into Apple's product line, Hargreaves said: "We now expect Apple to stop producing the iPad 2 when it refreshes the new iPad and introduces the 7.85" iPad.
"This would create a hole in Apple's pricing ladder at $399...We believe a 16GB iPad mini would be preferable to an 8GB New iPad, since it would likely offer more gross profit dollars per unit and would better support storage of multiple videos."
Even if an iPad mini isn't announced, the speculation of a smaller Apple tablet is good news for the company, as its share price hit $600 for the first time since April when the reports emerged on 3 July.
Hargreaves believes that the release of an iPad mini could see Apple's share price top $690, significantly above its all-time-record of $644.
Announced at its I/O conference in late June, the Google Nexus 7 tablet has a 7in screen with a resolution of 1280x800, a quad-core Tegra 3 processor with either eight or 16GB of storage and runs Android 4.1 Jelly Bean.
Available in late July for £159 and £199 depending on storage space, the Nexus 7 will beat the iPad mini to market and be slightly cheaper, but it remains to be seen if Google can tempt tablet buyers away from the dominant iPad.