We put together Apple's newly launched iPad mini side-by-side with the Samsung's Android powered Galaxy Tab 2 7.0, making easier for your to decide which one to buy.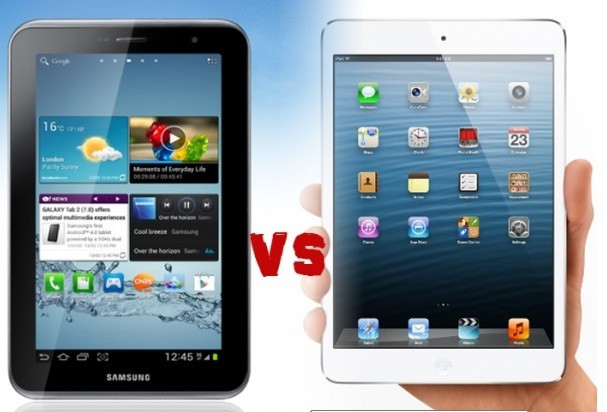 Apple announced its long rumoured smaller version of iPad featuring a 7.9in display. The pre-order for the new tablet has already started. The device will hit the shelves in a number of countries including the UK on 2 November. Considering the size of the display, the iPad mini is expected to rival the existing 7in tablets in the market.
Take a look how Apple's iPad mini stacks up against Samsung's first Android 4.0 powered tablet, Galaxy Tab 2 7.0.
iPad mini vs Galaxy Tab 2 7.0: Display
Samsung Galaxy Tab 2 7.0 features a PLS LCD display which uses TouchWiz UX user interface (UI). The resolution of the display is 600 x 1024pixels with pixel density measuring 170 pixels per inch (ppi). Most of the 7in tablets by Samsung (excluding the Galaxy Tab 7.7) share similar screen resolution as well as pixel density which is again similar to that of the other 7in rival tablets in the world tablet market.
The iPad Mini, in contrast, features a 7.9in LED-backlit Multi-Touch display with IPS technology. The resolution of the screen measures 768 x 1024pixels with pixel density slightly less than Samsung's Galaxy tablet at 163ppi.
The iPad mini features the same number of pixels as the first iPad and iPad 2. The display of iPad mini, according to claims made by Apple, delivers the same iPad experience in a design that has 35 per cent more screen rear estate than 7in tablets and up to 67 per cent more viewing area while browsing.
iPad mini vs Galaxy Tab 2 7.0: Dimensions
The 7in Galaxy Tab measures 193.7 x 122.4 x 10.5mm in thickness and weighs approximately 345g.
The iPad mini measures 200 x 134.7 x 7.2mm in thickness and is lighter when compared to the Galaxy tablet. The Wi-Fi + 3G/4G version of iPad mini is just four gram heavier than the Wi-Fi version at 312g. Apple boasts its 7in tablet is as thin as pencil. In addition it is 23 per cent thinner and 53 per cent lighter than the third generation iPad.
iPad mini vs Galaxy Tab 2 7.0: Operating System
The Galaxy Tab was first shipped with Android 4.0 (Ice Cream Sandwich) software version. This Galaxy Tab is reportedly Samsung's first tablet featuring Android ICS. Soon after official Jelly Bean roll out begun for Galaxy S3 starting from Poland, Samsung released a list of next Galaxy devices to receive the update. The list also carries the Galaxy Tab 2 7.0, unfortunately the manufacturer failed to provide details on the particular release date for the Jelly Bean roll out.
The iPad Mini runs on Apple's latest mobile operating system, iOS 6 which was announced at the company's WWDC conference. The new iOS bundles more 200 features. Rumours are making around Apple is expected to release a new version of operating system (iOS 6.0.1) soon.
iPad mini vs Galaxy Tab 2 7.0: Processor
The Galaxy Tab is powered by Texas Instrument's OMAP 4430 chip featuring a dual-core processor with PowerVR SGX540 graphics unit. The processor runs with a clock speed of 1GHz. The tablet has 1GB of RAM.
The iPad mini is powered by Apple's A5 chip featuring a dual-core processor, this is the similar processor that powers iPad 2. As usual Apple did not reveal any detain on the amount of RAM in the new tablet. However we expect it to be of 1GB.
iPad mini vs Galaxy Tab 2 7.0: Camera
The Galaxy Tab features a three megapixel rear-camera with technologies including geo-tagging and smile detection. The rear-camera can capture video in 720p at 30 frames per second (fps). In addition the device has a VGA-quality front-camera for video calling.
iPad mini's rear-camera is of slightly resolution than the Galaxy tablet at five megapixel. The iSight camera of iPad mini features technology including auto-focus, face detection, video stabilisation, Hybrid IR filter, tap to focus video/still images, tap to control exposure for video/still images and geo-tagging. In addition the camera can capture HD video in 1080p. The tablet also has a FaceTime HD camera (primary camera) of 1.2 megapixel. The front-camera is designed for video calling over Wi-Fi as well as on 3G/4G networks. The FaceTime camera and the iSight camera share a few features in common. It can also record HD video in 720p.
iPad mini vs Galaxy Tab 2 7.0: Connectivity
The Galaxy Tab offers Wi-Fi 802.11 a/b/g/n, DLNA, Wi-Fi Direct, dual-band, Wi-Fi hotspot and Bluetooth v3.0 with A2DP and HS. The device supports data speed HSDPA up to 21Mbps and HSUPA up to 5.76Mbps.
The iPad mini supports dual-band 802.11n Wi-Fi support for speeds up to 150Mbps which is twice the Wi-Fi performance when compared to the iPad 2 and the same as the latest generation of full-sized iPads. The Wi-Fi + 3G/4G variant of iPad mini is said to be world-ready with built-in support for ultrafast wireless standards, including LTE and DC-HSDPA allowing users to browse, download and stream contents fast. The tablet also supports Bluetooth v4.0.
The iPad mini will support the 1800MHz frequency being used by EE for the UK's first 4G network which will launch on 30 October.
iPad mini vs Galaxy Tab 2 7.0: Storage
Samsung Galaxy tablet is available in three storage options: 8GB, 16GB and 32GB. However, no price or release date for the 32GB version in the UK has been announced by Samsung yet.
Both the Wi-Fi and Wi-Fi + 3G/4G variants of iPad mini will come in three storage options: 16GB, 32GB and 64GB. Samsung's Galaxy tablet support microSD card for additional storage space-a storage feature Apple's iPad mini lacks in.
iPad mini vs Galaxy Tab 2 7.0: Battery
The Galaxy Tab is runs with a huge battery of 4,000mAh which reportedly delivers standby for 1190 hour on 2G and 1080 hours on 3G. Moreover the tablet offers up to 40 hours of talk time on 2G and 20 hours on 3G.
The iPad mini runs with a built-in 16.3 watt-hour battery which promises to deliver up to 10 hours of battery life when web browsing on Wi-Fi, watching video and listening music. The 16.3 watt-hour battery inside Wi-Fi + 3G/4G model is expected to last up to nine hours of surfing the web using cellular data network and 10 hours of browsing on Wi-Fi.
iPad mini vs Galaxy Tab 2 7.0: Price
The aforementioned features comparison will definitely provide consumers a clear idea on which tablet to choose; it is completely depend on them to make a choice between the brand and the quality. However for majority of the consumers the price factors also play a vital role while buying a tablet.
Below is the pricing option
iPad mini
Wi-Fi only/3G
16GB - £269/£369
32GB - £349/£449
64GB - £429/£529
Samsung Galaxy Tab 2 7.0
Wi-Fi Only/3G
8GB - £199/£299
16GB - £249/£349
It should be noted that Samsung's tablet can now be purchased at discounted prices online, as it has been on sale for a number of months.