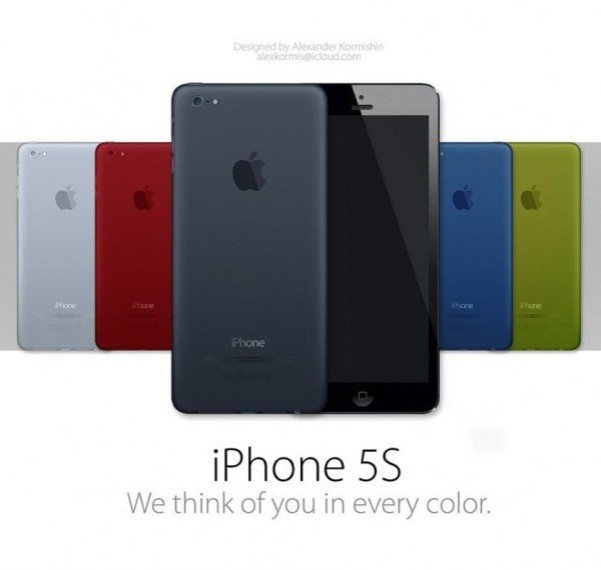 A purported leaked document from Japanese telecom KDDI's "au" wireless service has surfaced online claiming that the carrier will start taking pre-orders for the iPhone 5S from June 20, ahead of its release in July.
The leaked document allegedly meant for sales floor staff has been secretly acquired by a French website Nowhereelse.fr. It reportedly carries pricing and specification details of the upcoming iPhone 5S.
As Apple Insider notes, the authenticity of the document seems questionable with its laminated paper resembling the "cheat sheets" used by cell phone dealers and official carrier stores in Japan.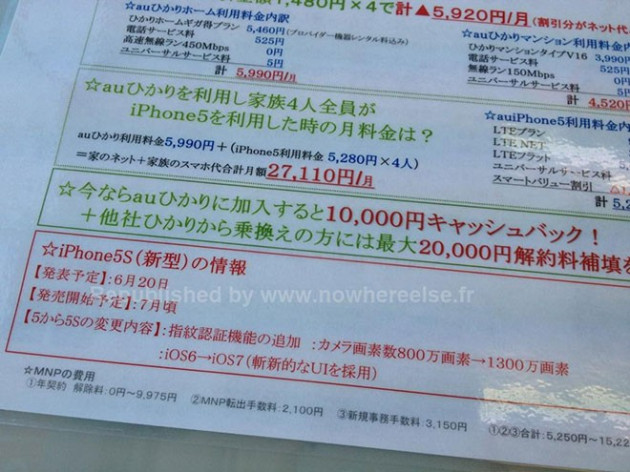 The highlighted text in red (shown in the leaked document photo) reportedly refers to the new product - iPhone 5S, whose pre-orders starting date is tipped for 20 June followed by its release in July. The document also reveals an entry for major feature changes from the iPhone 5, which include fingerprint reader, 13-megapixel camera and iOS 7.
The text highlighted in green is said to provide insight into au's current monthly plans for the iPhone 5, including LTE flat rate plans and family calling subscription options. In addition, it includes a cash back bundle offer for telecom users' hikari home internet service.
Release Date Conflict
With Apple's Worldwide Developers Conference scheduled to happen from 10 June through 14, the leaked document remains a mere speculation with just a week's time left prior to the 20 June pre-orders kick-off as stated in the document.
Earlier, Apple CEO Tim Cook hinted at a fall or Q4 release (September or October) for new product launches to coincide with the company's latest earnings call. Further, it may be recalled that popular analyst Ming-Chi Kuo had earlier reported that the launch of upgrades for Apple's MacBook lineup would be the highlight of the WWDC. Thus, it kills any hopes of a new iPhone launch ensuing before the grand event.