Apple beats Wall Street expectations with strong iPhone sales but profits decline for the third quarter in a row.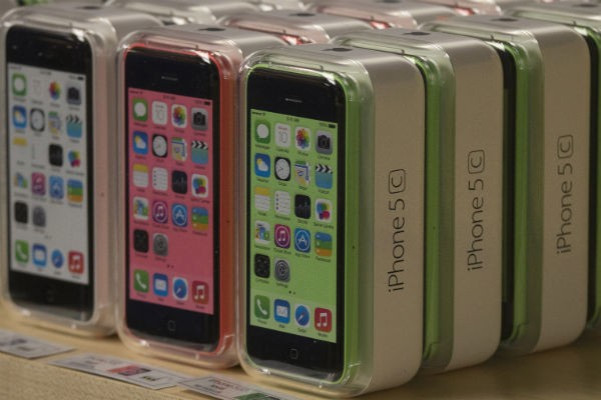 Apple on Monday announced financial results for the three months to the end of September, reporting a decline in profits for the third quarter in a row - though it did beat Wall Street expectations.
The company posted quarterly revenue of $37.5 billion (£23.2bn, €27.2) and quarterly net profit of $7.5bn, or $8.26 per diluted share.
These results compare to revenue of $36bn and net profit of $8.2bn, or $8.67 per diluted share during the same period last year meaning this was the third consecutive of quarterly profit decline.
Share price
While Apple's share price dropped by 3% in the immediate aftermath of the results being announced, but at the time of publication it had almost rebounded to its closing price of $529.88.
In terms of product sales the big success was the iPhones, with sales surpassing Wall Street estimates with 33.8 million units sold, up from 26.9 million last year. The record sales figures of nine million iPhone 5s and iPhone 5c units over their opening weekend on sale contributed significantly to the overall figure.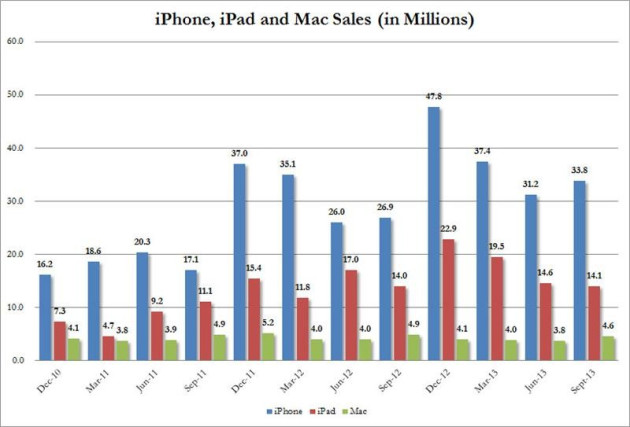 It was on the back of these large sales figures that Apple upped its estimates for fourth quarter revenue, which had led some analysts to expect even higher revenues.
Constrained
Speaking in a call with analysts, CEO Time Cook said that demand for the iPhone 5s remained high and stocks would continue to be constrained for some time to come.
iPad sales however were as expected flat compared to the same period last year, with sales of 14.1 million units, compared to 14 million last year. A lot of people would have been waiting to upgrade to the new iPads which Apple only launched last week.
Speaking about the company's new tablet line up, Cook told analysts in a conference call after the results were announced that not everyone who might want one of the new iPad Airs may be able to get their hands on one.
iPad Christmas
Cook added: "I think all these products will do very well and I think it is going to be an iPad Christmas."
He said the company thought it would have enough of the Retina display iPad mini tablets to meet demand, but warned that it was impossible to tell accurately how many would be needed until they went on sale next Friday.
Gross margin was 37% compared to 40% last year. "We would have expected higher gross margins," said Morningstar analyst Brian Colello. "With the higher price phones and clear preference toward the 5s, we were all expecting more of a gross margin boost for the December quarter."
Next quarter
Looking at the next three months, Apple is predicting revenues of between $55 billion and $58 billion with gross margin between 36.5% and 37.5%, which is lower than Wall Street analysts had expected.
The company said it had more than $146.8bn in cash on hand.