Apple will report its latest quarterly earnings this week, with sales figures and revenue levels likely to reflect its roller-coaster year in 2012.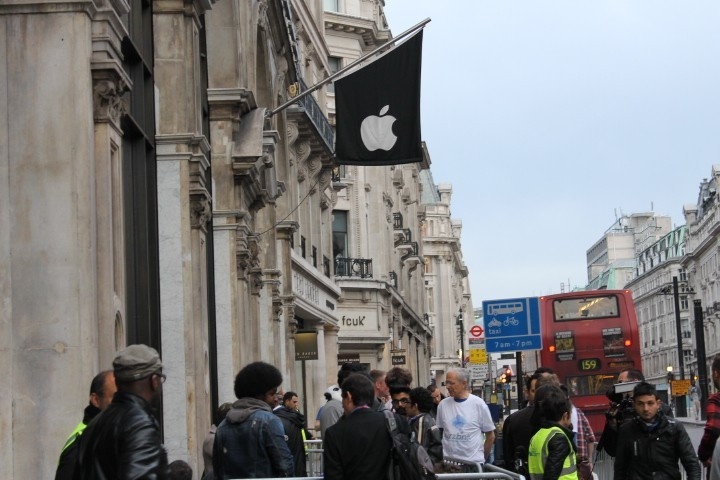 2012 was a landmark year for Apple. It was the first full year of the post-Steve Jobs era when his influence on the company and its product began to wear off. It was the year in which Apple's stock price hit an all-time high of $705.07. It saw the launch of the iPhone 5, the iPad 3 and 4, as well as the iPad mini.
However, it was also the year when Apple's shiny façade began to slip, ever so slightly. A series of very un-Apple missteps saw the company come under more and more scrutiny from customers and analysts alike, and has led the company's stock price to dip sharply from those heady $700+ days just four months ago.
The drop of almost 30 percent has seen $200bn wiped off the company's market capitalisation.
Among the missteps we have seen from Apple was the catastrophic use of its own Maps apps, replacing the much-loved Google Maps app, in iOS 6. This led to a very rare and public apology from Apple's CEO Tim Cook, and eventually the firing of Scott Forstall in October.
Apple also fired Briton John Browlett, Apple's head of retail, who only lasted eight months at the company. Browlett, formerly CEO of Dixon's in the UK, joined Apple in a surprise move announced this time last year.
His departure was widely expected after a series of poor decisions, including slashing the number of workers in Apple stores, something else Tim Cook had to publicly apologise for.
Positive note
2012 began on a very positive note for Apple, with profits almost doubling in the first quarter (year-on-year), iPad sales up a huge 151 percent and iPhone sales up 88 percent. The second quarter was similarly impressive, with Apple selling 26 million iPhones and 17 million iPads in just three months.
However, the third quarter of 2012 saw Apple miss Wall Street expectations, despite selling 26 million iPhones and 14 million iPads. While Wall Street expectations will matter little to Apple, missing them has certainly added to a weakening in Apple's reputation - and its share price.
In the final three months of 2012, we've seen the the iPad 4, iPad mini, iPhone 5, fifth-generation iPod touch, seventh-generation iPod nano, 13in Retina MacBook Pro, updated Mac Mini, and redesigned iMac go on sale - which should surely be enough to spur sales and profits on to more 'record' levels.
We have had our first teaser in relation to iPhone sales today, with US mobile network Verizon announcing it activated 6.2million iPhones in the last three months of 2012, though slightly less than half of these were the new iPhone 5.
Sluggish demand
It is unclear it problems with supplies or sluggish demand was the reason for only half of Verizon's iPhone sales being the latest model (both theories have been posited), but no matter what, the figures are still hugely positive for Apple.
However the US is not where Apple needs to worry about. It is the clear market leader there (and in Japan according to the latest figures from Kantar Worldpanel ComTech) but pretty much everywhere else Android is a clear leader.
It is the challenge from Samsung in 2012 and its market leading Galaxy S3 smartphone which will be of most concern to those within Apple. Seen for years as the smartphone of choice, the iPhone has slipped of late, and is now facing real competition from Samsung - though no other Android manufacturer has really made a significant breakthrough in this area.
Predictions
As part of its earnings report for the last quarter, Apple's indicated a guide figure for the Q1 2013 earnings, predicting revenue $52bn and earnings per diluted share of $11.75. Wall Street's expectations are slightly higher, predicting $54.6 billion in revenue on $13.34 earnings per share
While Apple very rarely misses Wall Street expectations, and recently has been blowing them out of the water, it did miss last time round, and another miss could see the share price dip to levels not seen since 2011.
Analysts are predicting between 47 and 53 million iPhones were sold in the quarter, with between 23 and 26 million iPads sold (including full-sized and mini models). It should be noted that direct comparison to the same period last year is not too helpful, as the 2013 quarter had 14 weeks compared to 2012's 13 weeks.
The Apple Q1 2013 results will be reported at 10pm (GMT) on 23 January with an earnings call to follow, likely to feature CEO Tim Cook and CFO Peter Oppenheimer. IBTimes UK will be covering the news live.