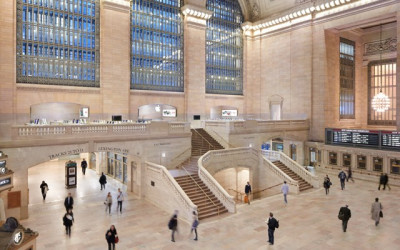 Apple opened its biggest-ever store last week, at the Grand Central station, New York, and you could be let off for thinking that the hundreds of eager Apple fans queuing patiently were there for the launch of a new iPhone. In fact, they turned up in droves just to sample the new store for themselves. The store at Grand Central terminal is Apple's biggest, measuring at an enormous 23,000 square feet and boasting more than 300 staff and two genuis bars.
The store opening was a typical Apple affair, with free t-shirts being given to the first 4000 Apple fans through the doors and high-fives all round from the ever-eager staff. CNN reported that around 4000 people had passed through the doors by 12:30, just two and a half hours after the store opened at 10am last Friday.
The store, Apple's fifth in Manhattan alone, incorporates the company's new employee-free payment system, where customers can pay for goods by scanning the bar code on their iPhone an paying with the credit card paired with their Apple account.
Apple's Grand Central store becomes the company's biggest, a record previously held by the Covent Garden store in London.