Apple has tied with Samsung to become the world's largest smartphone vendor in the fourth quarter, having shipped 74.5 million units across the globe.
Research firm Strategy Analytics said both Samsung and Apple currently hold a 20% market share each, as global smartphone shipments grew 31% to reach a record 380 million units in the fourth quarter.
In 2014, a total of 1.3 billion smartphones were shipped worldwide thanks to strong demand from emerging markets such as China, India and Africa.
Apple's market share increased to 20% from 18% in the fourth quarter of 2013, as its new iPhone models saw strong sales especially in China, the US and Europe.
It is for the first time since the fourth quarter of 2011 that Apple has become the world's largest smartphone vendor. For the final three months of 2014, the company recorded $18bn (£11.9bn, €15.9bn) in profit – the largest quarterly earnings in global corporate history.
Meanwhile, Samsung managed to ship 74.5 million smartphones worldwide in the fourth quarter, but its market share declined to 20% from 30% in the fourth quarter of 2013.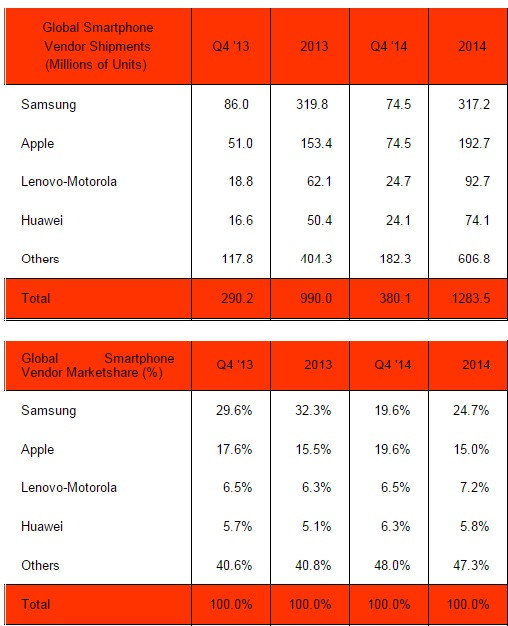 The company earlier said earnings from smartphones and other mobile gadgets dropped 64% annually in the October-December period to 1.96tn won ($1.80bn), contributing to its first annual earnings fall in three years.
"Samsung continues to face intense competition from Apple at the higher-end of the smartphone market, from Huawei in the middle-tiers, and from Xiaomi and others at the entry-level," Strategy Analytics said in a blog.
"Samsung may soon have to consider taking over rivals, such as Blackberry, in order to revitalise growth this year."
Nevertheless, the Korean electronics giant remained the number one smartphone player globally on a full-year basis in 2014.
Chinese firm Lenovo, which recently acquired Motorola from Google, was the second largest vendor with a 6.5% market share at the end of the fourth quarter, followed by Huawei with a 6.3% market share.