Apple and Samsung have been urged to settle their multi-billion-dollar patent infringement case by before the trial reach jury deliberation next week.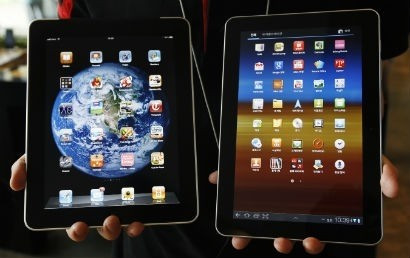 "It's time for peace," Judge Koh said as the trial, which has already seen Apple rest its case, continues its third week.
Apple is accusing Samsung of "slavishly copying" its designs and some features of the iPhone and iPad, and as compensation it is claiming the South Korean company owes it up to £1.75bn and wants the infringing products banned from sale.
Meanwhile, Samsung claims Apple infringed several of its patents, including some for the wireless connectivity of its iPhone and iPad products.
"I see risks here for both sides," Koh said as they once again urged the two tech giants to talk with each other and come to a settlement.
A pre-trial meeting between the two companies came to nothing, but Koh has again suggested that executives from Apple and Samsung should speak to each other at least once on the phone before the jury decision.
Witnesses
On Wednesday Samsung continued to present witnesses to the court, this time it was Korean industrial designer Jin Soo Kim, who spoke through an interpreter to say he began working on a Samsung tablet in October 2009, shortly before Apple announced the iPad in January 2010.
Kim said: "I really enjoy what I do as a designer. I am proud of what I do," and confirmed that he had not copied designs of any other company when questioned by Samsung attorney John Quinn.
Apple attorney Harold McElhinny drew Kim's attention to internal Samsung emails from February 2010 that refer to a meeting between Samsung and Google executives.
In the meeting, the search giant told Samsung it should redesign the early tablet prototype because it looked too similar to the Apple iPad.
Kims said he did not attend that meeting with Google and was not briefed about it by his colleagues.
Pinch-to-zoom patent
Another Samsung witness on Wednesday claimed that a number of Apple's patents are invalid because of prior art - meaning that someone else had already developed technology to carry out the same function before Apple had it patented.
Patent analyst Stephen Gray mentioned two products called DiamondTouch and LaunchTile, which he claimed pre-date Apple's 'pinch-to-zoom' and 'tap-to-zoom' functions on iOS devices.
In cross-examination, an Apple lawyer asked Grey if Apple's patents would still be valid if the jury felt the magnification used in LaunchTile was different from the method used by the iPhone, as Apple has previously suggested.
Grey said that would be for the jury to decide.
Time is running out for Samsung to deliver its case, as each company was given 25 hours to present and cross-examine witnesses, but while Apple rested its case with seven hours remaining, Samsung has just two hours and 25 minutes left, so it will probably have to rest its case early on Thursday.
The trial continues.