Apple's share price has jumped 5% after billionaire activist investor Carl Icahn said the iPhone maker is "extremely undervalued" following a meeting with CEO Tim Cook.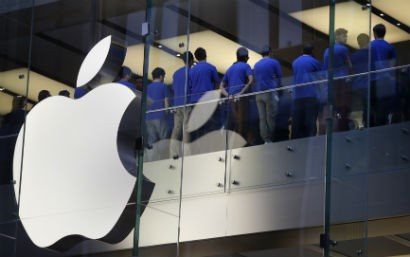 The California company's stock rose by $22.21 (£14.40) to finish the day 4.75% up at $489.57. A turbulent 12 months has seen its share price dip below $400 from a record high of $702 amid concerns that the company can no longer match the market-leading innovations of the iPod, iPhone and iPad.
Icahn, who is currently locking horns with Michael Dell over a potential buyout of the Dell computer company, tweeted to say he had had a "nice conversation" with Apple CEO Tim Cook, in which they discussed his opinion that "a larger buyback [of shares from investors] should be done now." Icahn said the two "plan to speak again shortly."
We currently have a large position in APPLE. We believe the company to be extremely undervalued. Spoke to Tim Cook today. More to come.

— Carl Icahn (@Carl_C_Icahn) August 13, 2013
Had a nice conversation with Tim Cook today. Discussed my opinion that a larger buyback should be done now. We plan to speak again shortly. — Carl Icahn (@Carl_C_Icahn) August 13, 2013
Speaking of his investment in Apple through holding company Icahn Enterprises, Icahn said: "We currently have a large position in Apple. We believe the company to be extremely undervalued."
Although Icahn has not disclosed the size of his stake in Apple, a Reuters source familiar with the matter said he held around $1 billion in shares, a fraction of the company's $440bn market value.
Apple spent $16bn on buying back shares in the last quarter alone, when 36 millions shares were repurchased, and the company said in April it plans to spend $60bn on buybacks between now and the end of 2015, six times what it had originally planned to spend.
Positive
Speaking to the Wall Street Journal after Icahn's comments, an Apple spokesperson said: "We appreciate the interest and investment of all our shareholders. Tim [Cook] had a very positive conversation with Mr. Icahn today."
In an interview with Reuters, Icahn said Apple has the ability to perform a $150bn buyback. "If Apple does this now and earnings increase at only 10%, the stock should trade at $700 a share. [Apple has] huge borrowing power, little relative debt and trades at a low multiple."
While investors will look forward to the potential of increased buybacks, some analysts remain unconvinced about Icahn's proposal, partly due to much of Apple's cash reserves being held overseas and any buyback would incur a large tax bill when the cash is repatriated.
Tepid
The buyback programme "was already greatly increased and there was a debt offering to facilitate that," Hudson Square Research analyst Daniel Ernst told Reuters. "I can't say that I agree that the pace of the buyback is tepid."
Having not released any major new products for some time, investor interest in Apple has waned in recent months, but talk of a smart watch dubbed iWatch continues to build momentum as a range of updated iPhones is tipped to be announced on 10 September.
The announcement is thought to include an updated iPhone 5S with integrated fingerprint scanner, and a new iPhone 5C, constructed from plastic instead of aluminium and aimed at the budget end of the smartphone market.