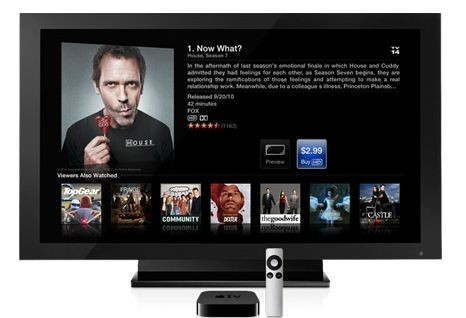 Apple is believed to be developing a next-generation television set that will be controlled by users' voice and hand movements, according to a report by the Wall Street Journal.
The American publication claims to have heard from sources close to the Apple television project, who have said that media executives have recently been in talks with the computer company about streaming digital content to the as-yet unannounced device.
The WSJ claims that "In the recent meetings with media companies, the Apple executives, including Senior Vice President Eddy Cue, have outlined new ways Apple's technology could recognize users across phones, tablets and TVs, people familiar with the talks said,
"In at least one meeting, Apple described future television technology that would respond to users' voices and movements, one of the people said. Such technology, which Apple indicated may take longer than some of its other ideas, might allow users to use their voices to search for a show or change channels."
Rumors of an Apple television have circulated for years now and so far the only product to come close is the Apple TV set-top box, which was once described as a "hobby" by Steve Jobs after it failed to sell.
The publication of Walter Isaacson's biography of Steve Jobs added further fuel to the fire by quoting Jobs as saying he had "finally cracked" the television as a product, suggesting that an all-new Apple television was being actively developed.
Jessica Vascellaro of the WSJ continues: "the talks-some of which were made at the request of media companies seeking an update on Apple's plans-suggest that Apple's TV strategy is advancing"
Through its iTunes music store, Apple has many strong ties with the television and film industries, so it would presumably be an easy step to bring a large catalogue of digital content to the upcoming Apple television.
With Siri - the voice-activated personal assistant - getting its debut on the iPhone 4S this year and Jobs claiming to have developed an easy and intuitive television user interface, it is expected that Siri will form a major part of how the Apple television is controlled.
Microsoft uses voice and gestures to control media content on the Xbox 360 through the Kinect accessory, so we presume that Apple has been watching this technology develop closely over the past year.
The WSJ report continues: "The TV device Apple is working on would use a version of Apple's wireless-streaming technology AirPlay to allow users to control it from iPhones and iPads, according to people briefed on the matter."
Recent rumors claimed that instead of an entirely new product, the next iMac computer would have television functionality.